Definition
cloud analytics
Cloud analytics is a service model in which elements of the data analytics process are provided through a public or private cloud. Cloud analytics applications and services are typically offered under a subscription-based or utility (pay-per-use) pricing model.

Download this free guide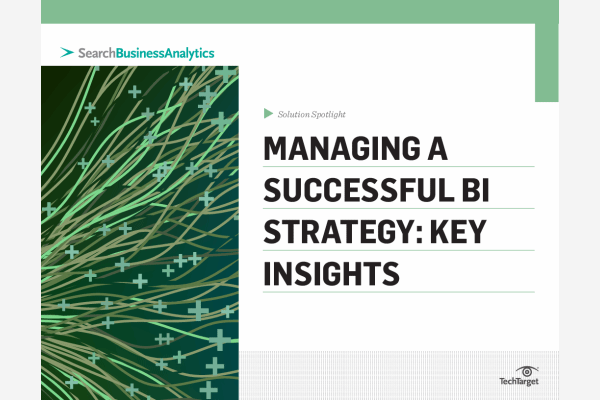 Download Our Expert Guide: 6 Big Mistakes That Erode BI
"One BI style will satisfy all business users," is just one misconception companies are making when deploying BI systems today. Learn all 6 to keep your implementations clear of common mistakes.
By submitting your personal information, you agree that TechTarget and its partners may contact you regarding relevant content, products and special offers.
You also agree that your personal information may be transferred and processed in the United States, and that you have read and agree to the Terms of Use and the Privacy Policy.
Gartner defines the six key elements of analytics as data sources, data models, processing applications, computing power, analytic models and sharing or storage of results. In its view, any analytics initiative "in which one or more of these elements is implemented in the cloud" qualifies as cloud analytics. Gartner analyst Bill Gassman noted that vendors offering cloud-based technologies designed to support a single element refer to themselves as cloud analytics companies, which can cause confusion for potential users.
Examples of cloud analytics products and services include hosted data warehouses, software-as-a-service business intelligence (SaaS BI) and cloud-based social media analytics.
SaaS BI (also known as on-demand BI or cloud BI) involves delivery of business intelligence (BI) applications to end users from a hosted location. This model is scalable and makes start-up easier and less expensive, but the product may not offer the same features as an in-house application.
Cloud-based social media analytics involves the remote provisioning of tools that include applications for selecting the social media sites that best serve your purposes, separate applications for harvesting data, storage services and data analytics software.
A hosted data warehouse is a centralized repository for enterprise data that is made available to users from a remote location operated by the service provider, rather than being located on the enterprise's own systems.
According to Gassman, before investing in cloud analytics, an enterprise needs to fully grasp the extent of what's involved. "The danger is people will go down this road and not understand the scope," Gassman said. Investing in cloud analytics can be profitable for an organization but proper planning is essential to ensure that all six analytics elements are covered.
See also: cloud computing, real-time analytics, real-time BI, Infrastructure-as-a-Service (IaaS), Platform-as-a-Service (PaaS), Software-as-a-Service (SaaS)
Continue Reading About cloud analytics
PRO+
Content
Find more PRO+ content and other member only offers, here.