Essential Guide
Dashboard development and data visualization tools for effective BI
A comprehensive collection of articles, videos and more, hand-picked by our editors
data visualization
Data visualization is a general term used to describe any technology that lets corporate executives and other end users "see" data in order to help them better understand the information and put it in a business context.
FROM THE ESSENTIAL GUIDE:
Data visualization is a general term that describes any effort to help people understand the significance of data by placing it in a visual context. Patterns, trends and correlations that might go undetected in text-based data can be exposed and recognized easier with data visualization software.
Download: 15 Important Data Management Terms to Know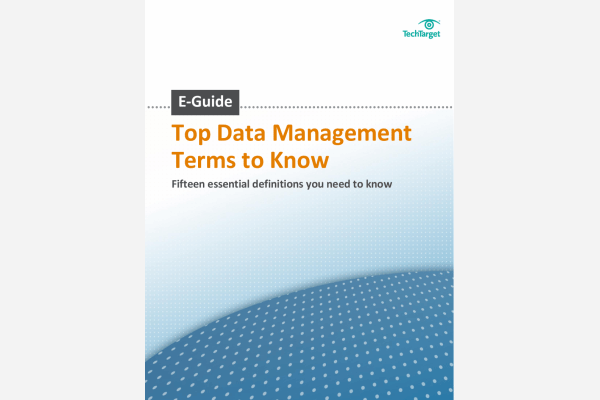 Hadoop, text mining and big data are just a few top terms raising the level of play in data management. Stay on top of hot terms you need to know to stay on top of your game.
By submitting your personal information, you agree to receive emails regarding relevant products and special offers from TechTarget and its partners. You also agree that your personal information may be transferred and processed in the United States, and that you have read and agree to the Terms of Use and the Privacy Policy.

Today's data visualization tools go beyond the standard charts and graphs used in Excel spreadsheets, displaying data in more sophisticated ways such as infographics, dials and gauges, geographic maps, sparklines, heat maps, and detailed bar, pie and fever charts. The images may include interactive capabilities, enabling users to manipulate them or drill into the data for querying and analysis. Indicators designed to alert users when data has been updated or predefined conditions occur can also be included.
Most business intelligence software vendors embed data visualization tools into their products, either developing the visualization technology themselves or sourcing it from companies that specialize in visualization.
Continue Reading About data visualization
PRO+
Content
Find more PRO+ content and other member only offers, here.