Essential Guide
Mobile BI tools, trends and best practices guide
A comprehensive collection of articles, videos and more, hand-picked by our editors
mobile business intelligence
Mobile business intelligence is an extension of business intelligence (BI) from desktops and laptops to mobile devices such as Blackberry, iPhone, and iPad.  Reports, charts, graphs, and alerts are designed for viewing on smaller mobile screens. 
FROM THE ESSENTIAL GUIDE:
Mobile business intelligence is software that extends desktop business intelligence (BI) applications so they can be used on a mobile device. MBI applications optimizes traditional BI reports so they can be viewed easily on a small screen and is ideal for displaying key performance indicators (KPIs) and alerts on small screens with simple charts, graphs and sparklines. An additional benefit of MBI is that it allows data that's captured by the mobile device to be integrated on-the-fly so that reports are currents and mobile workers can make informed decisions in real time.
15 Important Data Management Terms to Know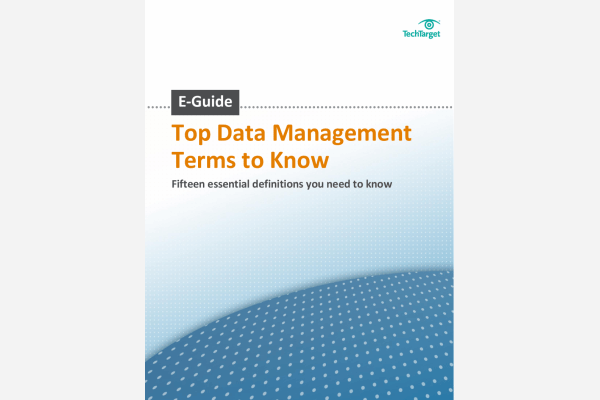 Hadoop, text mining and big data are just a few top terms raising the level of play in data management. Stay on top of hot terms you need to know to stay on top of your game.
By submitting your personal information, you agree to receive emails regarding relevant products and special offers from TechTarget and its partners. You also agree that your personal information may be transferred and processed in the United States, and that you have read and agree to the Terms of Use and the Privacy Policy.

Currently, there is not a unified mobile device standard for MBI, making it challenging for vendors to accommodate the way different end user devices. Some BI vendors have integrated mobile capabilities into their existing architecture, while other solutions require an additional server for mobile publishing. Deployment methods vary depending on the business needs and types of mobile devices used. Some vendors use push technology to make sure the device has the most current data, while other vendors require the user to open an application on the mobile device and pull the most current data. Regardless of delivery method, data security is an important consideration for any deployment and most vendors include encryption and strict authorization components in the applications.
PRO+
Content
Find more PRO+ content and other member only offers, here.