self-service business intelligence (BI) definition
Self-service business intelligence (SSBI) is an approach to data analytics that enables business users to access and work with corporate information without the IT department's involvement (except, of course, to set up the data warehouse and data marts underpinning the business intelligence (BI) system and deploy the self-service query and reporting tools).
Download Our Expert Guide: 6 Big Mistakes That Erode BI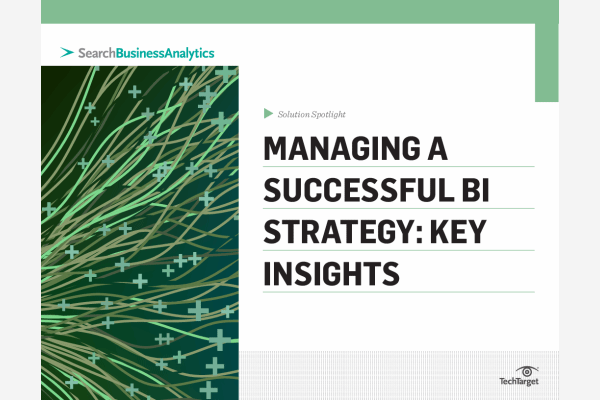 "One BI style will satisfy all business users," is just one misconception companies are making when deploying BI systems today. Learn all 6 to keep your implementations clear of common mistakes.
By submitting your email address, you agree to receive emails regarding relevant topic offers from TechTarget and its partners. You can withdraw your consent at any time. Contact TechTarget at 275 Grove Street, Newton, MA.
You also agree that your personal information may be transferred and processed in the United States, and that you have read and agree to the Terms of Use and the Privacy Policy.

The self-service approach lets end users create personalized reports and analytical queries while freeing up IT staffers to focus on other tasks – potentially benefiting both groups. Because self-service BI software is used by people who may not be tech-savvy, however, it is imperative that the user interface must be intuitive and easy to use. Ideally, the IT department should help users understand what data is available for BI uses by providing a metadata dictionary at the business layer level. This will help end users to focus on the meaning of the data in the BI system, not the technology itself.
Self-service BI capabilities should be built with a business focus from the start. Training, on both the data and the self-service applications, is critical for getting business workers up-to-speed on how they can use the information in the BI system. While self-service BI encourages users to base decisions on data instead of intuition, it creates the risk of chaotic reporting within an organization. To mitigate that risk, IT should work with business units to determine key metrics and an agreed-upon vocabulary, processes for creating reports and publishing, what privileges are necessary for access to confidential data and how to define and implement data security policies and privacy policies.
Learn more:
How to optimize your Microsoft business intelligence strategy
The newest buzzword in the BI industry is self-service BI, or the ability for end users to directly access business intelligence data
SQL Server business intelligence and self-service BI in the midmarket
SQL Server 2008 R2 introduces valuable self-service BI tools to help end users extract data. Could your users benefit from SQL Server ...
Is self-service business intelligence the answer?
The goal of self-service BI is to empower end users so they can make ... Self- service BI gives end users the tools they need to access and ...
Continue Reading About self-service business intelligence (BI)
PRO+
Content
Find more PRO+ content and other member only offers, here.