Budgeting and forecasting is the most common business function supported by an advanced analytics program, according to a recent survey. Marketing and customer-focused uses are also popular.
Budgeting, marketing top advanced analytics uses
More than half of the 114 survey respondents with existing or planned deployments of analytics tools said they use or plan to use their advanced analytics program to support financial applications like budgeting and forecasting. The 56% response for those functions was the largest by a wide margin on the question of advanced analytics business uses within organizations. But finance operations aren't the only driver that's spurring advanced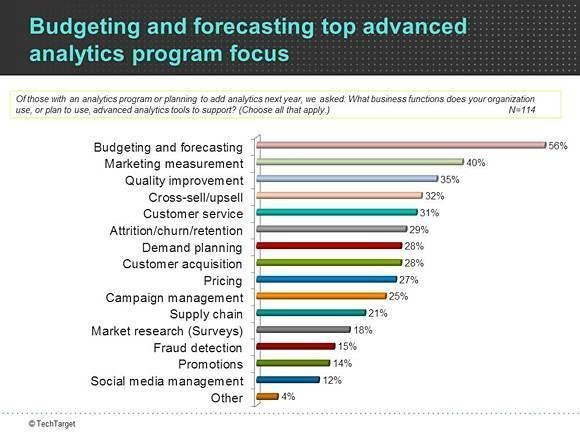 analytics adoption. A variety of marketing and customer-focused uses also are getting attention within advanced analytics programs, according to survey respondents. Quality improvement has become a popular application for analytics software, too.
A common analytics program challenge is getting business managers and workers to put their trust in the findings generated by predictive models and data mining tools. But a successful advanced analytics program can help improve a company's decision management processes, says consultant James Taylor. And such initiatives are paving the way for improvements in business operations and results at organizations ranging from retailers to sports franchises like the Orlando Magic.