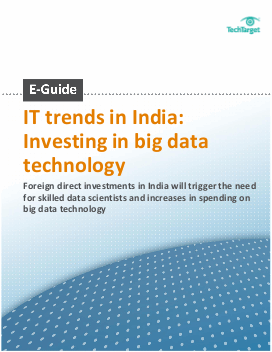 IT trends in India: Investing in big data technology
Businesses in India remain about a year behind those based in Europe and North America when it comes to big data technology adoption. In order to compete with the large overseas retailers investing directly in the Indian market, smaller domestic enterprises will need to increase spending on big data technology and invest in skilled data scientists. In this e-guide, find out what's driving these changes, how to remain competitive and where to find the right data scientists.
Featured Stories
Foreign retailers could drive Indian big data investments
"If large overseas retailers come into India with all their fancy analytics tools, domestic retailers that want to be competitive will have to invest in these technologies."– Sid Deshpande, Gartner analyst from India.
How to find the right data scientists
"The role of data scientists is increasingly becoming important for organizations to execute their big data strategy. Today, organizations need specialized sets of people who can analyze, derive, and communicate impactful findings back to the business to make informed decisions." - Manish Bahl, India country manager at Forrester Research.
This was first published in July 2013