blobbotronic - stock.adobe.com
Q
Get started
Bring yourself up to speed with our introductory content.
How do augmented analytics and BI tools differ?
See how augmented analytics compares to traditional BI and self-service analytics tools and what this new generation of AI-powered data analysis platforms can deliver.
Business intelligence tools have come a long way from basic performance monitoring and key performance indicator reporting. The software now provides sophisticated analytics to a broad range of users from line-of-business workers to data scientists.
The newest business intelligence (BI) tools automate at least some, if not all, of the analytics process. This evolving category of automated tools, which rely on natural language processing, machine learning, augmented data preparation and visual-based data discovery capabilities, is called augmented analytics.
Most of the traditional tools on the BI market will likely use machine learning algorithms and other AI technologies behind the scenes to support analytics processes, said Joao Tapadinhas, a research vice president at Gartner, during the analyst firm's July 2018 State of BI and Analytics webinar.
"What will happen is that centralized BI will become even less relevant and self-service analytics will be assisted by data science and artificial intelligence," Tapadinhas said. "So instead of a drag-and-drop interface, you'll have a system telling the user what's happening, why they should look at costs and helping them connect different data sources."
Even if you aren't looking for augmented [analytics], augmented will come to you and become standard features in your analytics deployment going forward.

Joao Tapadinhasresearch VP, Gartner
Augmented analytics tools will be used within the next few years to help analysts join data and better prepare data matches for analysis. Some augmented analytics tools that are already available include Salesforce Einstein, IBM Watson Analytics and ThoughtSpot. Traditional BI tools like Qlik Sense, Power BI and Tableau will continue to evolve and add more and more AI capabilities.
"Even if you aren't looking for augmented [analytics], augmented will come to you and become standard features in your analytics deployment going forward," Tapadinhas said.
Beyond 2020, AI will guide most analytics processes and will be the No. 1 way to explore data. That doesn't mean business users and analysts won't be in the picture; it means AI will be able to deliver very sophisticated analytics to help users identify potential issues and discover otherwise unseen patterns within the data.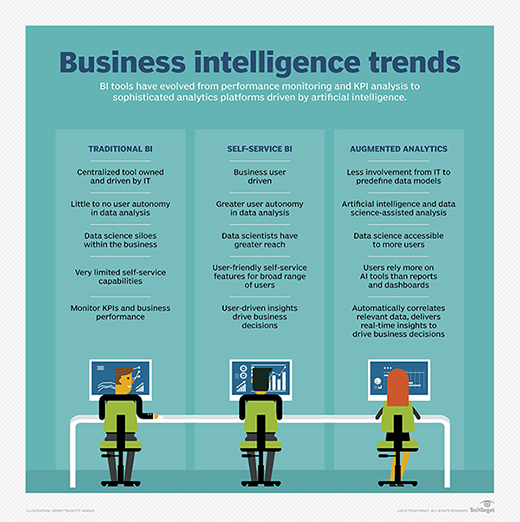 "Many activities will be machine-driven, will be guided by the tool, and the user can focus on the action, the results and what they should do from the business perspective," Tapadinhas said in the webinar.
Dig Deeper on Artificial intelligence and analytics
What's the difference between DDL and DML? Get the answer and see examples of data manipulation language and data definition language commands for ... Continue Reading
Data catalogs serve as data portals for self-service business analytics users. Learn how the data is curated, what capabilities are included, the ... Continue Reading
The definition of personal data in the EU's GDPR data protection rules is broad enough to include any type of data that can be used to directly or ... Continue Reading
Have a question for an expert?
Please add a title for your question
Get answers from a TechTarget expert on whatever's puzzling you.