A buyer's guide to selecting the right big data analytics software
Last updated:November 2015
Editor's note
Big data analytics used to be the province primarily of large organizations and companies with businesses revolving around data, such as marketing and information services providers. However, with cost factors less of a barrier today -- and the availability of a broader range of big data platforms and software -- the technology is being adopted by a growing number of data-driven companies of all sizes across all industries.
These companies are using big data analytics software to rapidly analyze massive amounts of data in real time, including structured transaction data, unstructured data such as social media posts, log files from mobile applications and machine and sensor data. In turn, the insights derived from these analyses can translate into improved operational efficiency, new revenue opportunities and competitive advantages over business rivals.
Big data analytics software is designed to work with big data platforms, which include Hadoop clusters built around commodity servers and scalable distributed storage, NoSQL database systems and specialized high-performance analytics databases. The tools support predictive modeling and data mining techniques and are capable of scaling as more data is incorporated into analytical models.
Sorting through the many products classified as big data analytics software can make your buying decision even more difficult, as the functionality, features and capabilities of these tools are often similar. Fortunately, we've simplified that process for you in this buyer's guide. Here, we will help you establish your company's specific objectives and map them to the attributes of products and suites from nine of the top commercial and open source big data analytics software vendors. This will aid you in narrowing down your list of candidate vendors to the ones whose products best address your organization's specific big data use cases.
1

Is big data analytics software a good investment for your organization?

The use cases presented here can help you can determine if big data analytics software could benefit your company's data analytics needs.
2

Assessing your must-have features for big data analytics software

Here, we examine the specific attributes that can be used to assess how well the various big data analytics software packages available will meet your organization's needs.

Download this free guide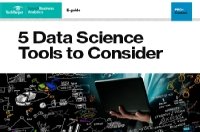 Free Guide: 5 Data Science Tools to Consider
With the right data science tools, you can gain powerful insight out of the ever-growing pools of corporate data. Learn why data science experts are using Python, R, Jupyter Notebook, Tableau, and Keras.
3

Evaluating big data analytics software from the leading vendors

It's challenging to select a product based solely on functionality, as many tools have similar features. Here, we examine several additional considerations that may factor into your buying decision.
4

Big data analytics software from the market leaders

Get overviews of the top big data analytics software products on the market today, with insights into features and how these tools can be implemented.