Definition
self-service business intelligence (BI)
Self-service business intelligence (BI) is an approach to data analytics that enables business users to access and work with corporate data even if they do not have a background in statistical analysis, BI or data mining. Self-service BI tools allow users to filter, sort, analyze and visualize data without involving the organization's BI and IT teams.
Content Continues Below

Download this free guide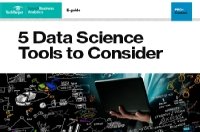 Free Guide: 5 Data Science Tools to Consider
With the right data science tools, you can gain powerful insight out of the ever-growing pools of corporate data. Learn why data science experts are using Python, R, Jupyter Notebook, Tableau, and Keras.
Data-driven businesses implement self-service BI capabilities to enable business users to easily use and benefit from the data they collect and to drive positive business outcomes, such as better efficiency, customer gains or higher profits.
Traditional vs. self-service BI
With traditional BI tools, data scientists and IT teams control access to data. Users requesting new reports and dashboards submit a list of business requirements; once the project is approved -- which can take weeks -- the data is extracted, transformed and loaded into an operational data warehouse. The IT or BI team then produces the report or dashboard.
Conversely, a self-service BI architecture is used by people who may not be tech-savvy; therefore, it is imperative that the user interface (UI) for self-service analytics software be intuitive. User-friendly dashboards and navigation should address the needs of both casual users (those who may need to access data but not generate reports) and power users (more savvy users, responsible for not just accessing and analyzing the data, but also ad hoc reporting). Ideally, training should be provided to help users understand what data is available and how that information can be queried to make data-driven decisions to solve business problems.
Once the IT department has set up the data warehouse and data marts that support the BI system, business users should then be able to query the data and create personalized reports with little effort.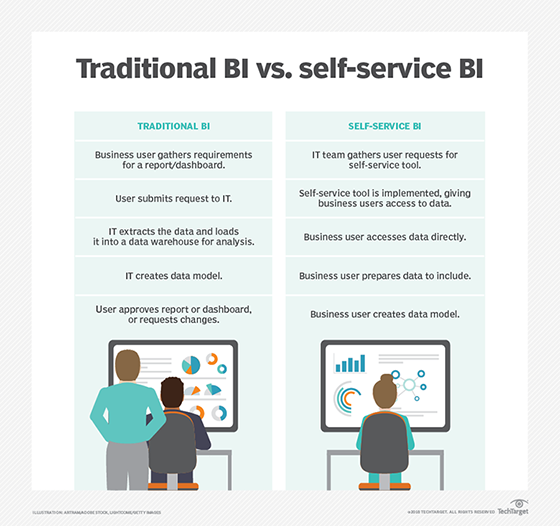 Benefits and challenges of self-service BI
Enabling end users to make decisions based on their own queries and analyses frees up the organization's BI and IT teams from creating the majority of reports; they can instead focus on other tasks that will help the organization reach its goals. The increased agility and efficiencies can then help business users and departments act on data insights faster.
However, gathering and parsing requests for self-service BI tool features from business users can be taxing and time-consuming. In addition, while self-service BI encourages users to base decisions on data instead of intuition, the data access it provides can cause problems, such as inaccurate analysis and reporting, if there is not a data governance policy in place. Among other things, the policy should define the key metrics for determining success, what processes should be followed to create and share reports, what privileges are necessary for accessing confidential data and how data quality, security and privacy will be maintained.
Examples of self-service BI tools
Analytics software vendors that once offered BI tools for analysts now provide self-service BI tools as well. Some of the many self-service analytics options come from vendors such as Birst, Domo, Google, IBM, Microsoft, Qlik, Salesforce, SAP, Sisense and Tableau.
Ease of use, sophistication and features differ for each vendors' self-service BI tool. Some platforms may be primarily used for simple dashboards and visualizations rather than more complicated tasks, like self-service data preparation, data discovery or interactive visual exploration.
This was last updated in
September 2018
Continue Reading About self-service business intelligence (BI)
Dig Deeper on Business intelligence software