 BACKGROUND IMAGE: iSTOCK/GETTY IMAGES
Guide to big data analytics tools, trends and best practices
Editor's note
By now, many companies have decided that big data is not just a buzzword, but a new fact of business life -- one that requires having strategies in place for managing large volumes of both structured and unstructured data. And with the reality of big data comes the challenge of analyzing it in a way that brings real business value. Business and IT leaders who started by addressing big data management issues are now looking to use big data analytics to identify trends, detect patterns and glean other valuable findings from the sea of information available to them.
It can be tempting to just go out and buy big data analytics software, thinking it will be the answer to your company's business needs. But big data analytics technologies on their own aren't sufficient to handle the task. Well-planned analytical processes and people with the talent and skills needed to leverage the technologies are essential to carry out an effective big data analytics initiative. Buying additional tools beyond an organization's existing business intelligence and analytics applications may not even be necessary depending on a project's particular business goals.
This Essential Guide consists of articles and videos that offer tips and practical advice on implementing successful big data analytics projects. Use the information resources collected here to learn about big data analytics best practices from experienced users and industry analysts -- from identifying business goals to selecting the best big data analytics tools for your organization's needs.
1

Opportunities and evolution in big data analytics processes

As big data analytics tools and processes mature, organizations face additional challenges but can benefit from their own experiences, helpful discoveries by other users and analysts, and technology improvements. Big data environments are becoming a friendlier place for analytics because of upgraded platforms and a better understanding of data analysis tools. In this section, dig deeper into the evolving world of big data analytics.
2

News and perspectives on big data analytics technologies

Big data analysis techniques have been getting lots of attention for what they can reveal about customers, market trends, marketing programs, equipment performance and other business elements. For many IT decision makers, big data analytics tools and technologies are now a top priority. These stories highlight trends and perspectives to help you manage your big data implementation.

Download this free guide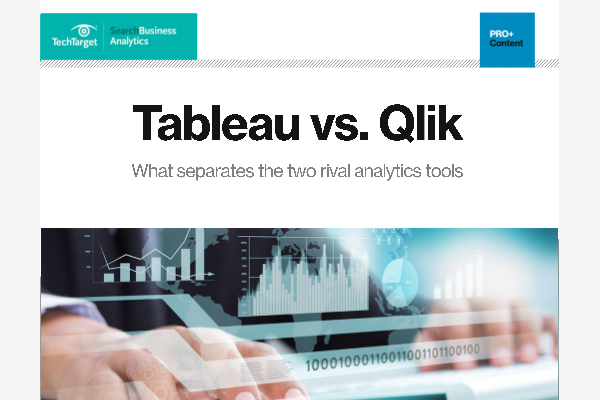 BI Self-Service Tool Comparison
What's the difference between Tableau and Qlik Sense? Designed exclusively for decision makers like you, this expert guide explores the pros and cons of both tools. Learn how they compare in 4 critical categories.
3

Best practices for implementing big data analytics projects

The stories in this section offer a closer look at what makes a big data implementation work -- and what doesn't. Experts share advice for selecting tools used in big data analytics, tips for identifying business goals, best practices for existing resources and insights into how to avoid common mistakes.
4

Big data analytics videos

Consultants and experienced users discuss big data analytics technologies and trends in the following videos. Speakers include Colin White, president and founder of BI Research; William McKnight, president of McKnight Consulting Group; and Wayne Eckerson, director of TechTarget's BI Leadership Research unit.
5

Important terms related to big data analytics

Read the definitions below to learn more about commonly used terms related to big data and the distinctions among them.
6

Big data analytics quiz

Take this brief quiz to test what you've learned about big data analytics best practices.