 BACKGROUND IMAGE: iSTOCK/GETTY IMAGES
Tapping the potential of social media analytics tools
Last updated:January 2014
Editor's note
Buried within the mountains of social media chatter are nuggets of valuable data -- customer comments and opinions on companies, their products and services, breaking news and market trends. Every day, customers and prospective buyers offer feedback and engage in online conversations about businesses on sites like Facebook and Twitter. Organizations looking for a competitive edge can use social media monitoring and analytics tools to find, sort and analyze that data. Among other potential benefits, social media analytics offers businesses the ability to identify patterns in customer sentiment and gauge their marketing effectiveness.
But while the potential is there for achieving payback from social media analytics tools, their effectiveness isn't always a given. Analysts and experienced users cite complexity and lack of a tangible return on investment among social media monitoring program challenges. While companies can use the software to collect customer data, they aren't always sure what to do with the information once they have it. And just implementing social media analytics software isn't enough; at some point in the process, humans must get involved in the analysis and interpretation of collected data. Furthermore, because social media listening doesn't encompass offline conversations among consumers, it might not provide a complete picture of sentiment about a company or its products.
If your company is putting a social media analysis plan in place, or evaluating a possible deployment, be sure you know what you're getting into first. This guide offers discussions of the benefits and drawbacks of social media analytics as well as user insights and tips. 
1

Confronting the challenges of social media analytics tools

For all the potential value to be gained from social media analytics, it's just one spoke in the business intelligence and analytics wheel. And the technology has yet to fully mature. Companies need to understand the limitations and risks that come with investing in these tools -- including the danger of drowning in an ocean of data. In this section, learn what users and analysts have to say about the drawbacks and challenges associated with social media analytics initiatives.
2

News and trends associated with social media monitoring

Companies in various industries are starting to recognize the potential value of managing their social media presence and engaging in social listening. The news and trends stories in this section offer insights from organizations such as SAS, Xerox and the Red Cross on the important role that social media analytics tools are playing in their business operations.

Download this free guide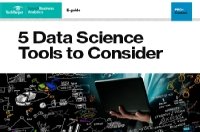 Free Guide: 5 Data Science Tools to Consider
With the right data science tools, you can gain powerful insight out of the ever-growing pools of corporate data. Learn why data science experts are using Python, R, Jupyter Notebook, Tableau, and Keras.
3

Social media monitoring tools quiz

Take this brief quiz to test your knowledge of social media analytics and monitoring tools.