Alteryx big data analytics platform stakes data-prep claim
Data preparation for analytics is a huge concern for businesses, and the latest product from Alteryx takes aim at addressing this concern.
Each quarter, the editors at SearchBusinessAnalytics recognize a business intelligence or analytics technology for innovation and market impact. The product selected this quarter is Alteryx Analytics 10 from Alteryx Inc.
Product: Alteryx Analytics 10
Release date: 10.0 in September 2015; 10.1 update issued in December
What it does
The Alteryx Analytics 10 big data analytics platform focuses on three key areas: data preparation, self-service analytics and advanced analytics. The Alteryx Analytics 10 umbrella product includes Alteryx Designer, Alteryx Gallery and Alteryx Server, each of which can be purchased individually, or as part of the broader platform.
Designer is a data preparation tool that users access through a graphical user interface that allows them to connect to a range of data sources. The Analytics 10.0 release added connectors to perform in-database processing in several popular big data platforms. Links are made through native connectors.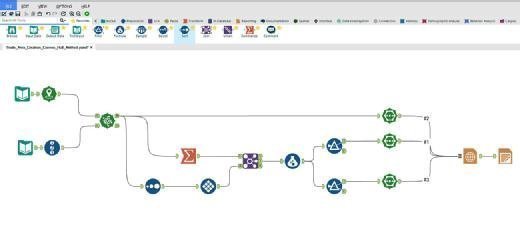 Once data sources are added users can build data workflows to structure and organize their data automatically. The 10.0 release added support for the application of R programming functions through drag-and-drop tools, rather than coding.
After data is prepared, users can access it in the Alteryx Gallery product -- another standalone tool that can be purchased as part of the full Alteryx Analytics platform. Gallery supports the creation and publishing of analytical applications to a company website, which can be used to build self-service analytics tools. The 10.0 release included a simplified user interface and new visualizations for interpreting predictive analytics results.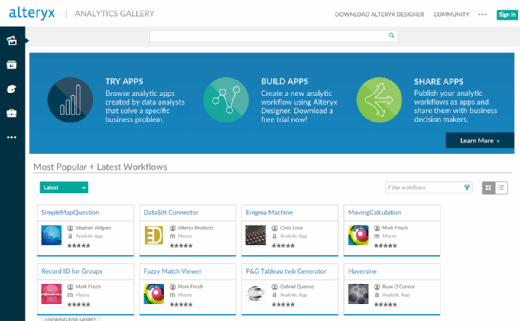 Alteryx Server, the third leg in the Alteryx Analytics stool, enables users to create and share workflows and analytics applications throughout the organization at scale.
The combination of Designer and Gallery, while emphasizing self-service and usability, generally support more advanced analytics than typical self-service tools. The integration with R and support for geospacial analysis drew praise from Gartner in its latest Magic Quadrant for Advanced Analytics Platforms.
Why it matters
Data preparation is increasingly becoming a key focus for business users, and vendors are picking up on the trend. Users see time to insights as a key measure to justify their investment in an analysis product, and data preparation is often one of the areas where the data analysis process bogs down. Analysts commonly complain that they spend upwards of 80% of their time just wrangling data.
Alteryx staked a large part of its claim on addressing this issue. By offering native connectors to most popular big data analytics platforms and databases, and creating functionality to automate and share data-processing workflows, Alteryx is hoping to draw customers to its big data analytics platform who are frustrated with existing data preparation tools.
What users say
This is exactly what drew Jenny Zhang, business analytics manager at New York-based JW Player, to the product in September 2015. She and her team use only the Designer product, rather than the broader Alteryx Analytics platform. But she said she brought it on because the data preparation feature in Tableau, which the company uses as its primary reporting tool, couldn't keep up with the business' needs.
Zhang and her team use Designer to blend data from separate Salesforce, Google Analytics and Marketo databases. Zhang said doing this with Tableau's data preparation tool was "a bad experience for the end user." When shopping for replacements, Zhang said she tested Designer by having it join seven tables from three different databases, which it completed in about 30 seconds.
"I was so impressed with the results of the trial," Zhang said.
Drilldown
Analytics 10.0 added connectors for linking the platform to Amazon Redshift, Cloudera Impala, Teradata, Spark, SAP HANA, MongoDB, Marketo and Salesforce.
Also new in 10.0 is support for R programming functions, whether using open source R, OracleR or SparkR. Functions can be applied during data preparation through a graphical user interface, rather than coding.
The Analytics 10.1 release includes centralized version control capabilities so analysts can collaborate on projects without losing work.
Analytics 10.1 also lets administrators control how analytics workflows and apps are shared with business users in Gallery.
Pricing
Customers pay the same price for the three components of Alteryx Analytics, whether they buy them as standalone products or as the complete platform. A three-year subscription to Alteryx Designer costs $3,995 per user, per year. Alteryx Server costs $45,000 per user, per year under a three-year plan. Alteryx Gallery costs $1,500 per user, per year on a three-year plan.