Manage
Learn to apply best practices and optimize your operations.
Analytics program requires adaptability, collaboration -- and results
Interviewed by book author Wayne Eckerson, four analytics managers describe some of the key elements in creating successful analytical applications.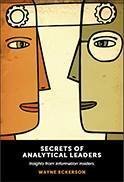 In this excerpt from Secrets of Analytical Leaders: Insights from Information Insiders, by business intelligence consultant and TechTarget research director Wayne Eckerson, four analytics program managers describe the elements of successful analytics initiatives, including adaptability, executive support, collaboration and accountability.
Dan Ingle, senior vice president of analytic insights and technology at Kelley Blue Book, begins the third of three segments from Chapter 5 in Eckerson's book by highlighting the importance of adaptability, teamwork and agile development principles. Kurt Thearling, director of applied analytics at consultancy AlixPartners, discusses how "curating" data and effectively implementing and managing analytical models are also keys to success. Darren Taylor, formerly vice president of enterprise analytics and data management at Blue Cross Blue Shield of Kansas City and now president of its Cobalt Talon analytics services subsidiary, offers three keys to analytics program success: getting the support of business executives, delivering business value and instituting accountability for the program's performance. And Amy O'Connor, senior director of analytics at Nokia, explains why it's essential to create a culture in which data is considered the most critical asset and the roles that evangelism and collaboration have to play in that process.
INGLE: My keys to success are pretty straightforward: 1) build things iteratively and incrementally using an agile development process, 2) adapt to circumstances and not be wedded to a particular solution or methodology, and 3) foster teamwork to increase productivity and effectiveness.
Agile development. When I started in this space, I saw quite a few data warehousing projects blow up because they used a traditional development approach with an extended project timeline. To avoid that, I began applying rapid prototyping techniques. I'd quickly gather requirements for a subject area, deliver a working prototype in a few weeks, and make rapid adjustments, if needed. In essence, I was following the tenets of Scrum before the term came into vogue. Since then, I've adopted Scrum in a big way, adapting the methodology to data warehousing and business intelligence solutions. Typically, we use three-week sprints, storyboards, and small self-organizing teams to deliver working code based on user priorities. We also co-locate the developers and business users during the duration of the effort. It works really well and makes logical sense.
Openness. Another key is to adapt your approach to the circumstances. I see a lot of people who are wed to a particular technology, vendor, or methodology because that's what they've known and made them successful. It's also easier and seemingly less risky to use something tried and true, rather than something new.
For instance, when I joined Kelley Blue Book, we were heavily vested in the Microsoft platform. We had many Microsoft products in house and plenty of people with Microsoft expertise. At the time, I couldn't imagine using a database other than Microsoft SQL Server, but we were also looking to scale up our environment to support much larger data volumes. One member of our team had experience with analytic appliances at a prior company, so we decided to evaluate several products. We trusted the findings of our proofs of concept, and ended up purchasing our first IBM Netezza appliance to power our data warehouse and other environments. That was one of the best decisions we made.
Teamwork. Finally, teamwork is essential to our success. We hold classes on teamwork and put our folks through various exercises -- some of which are not for the fainthearted. The classes teach people how to communicate, ask questions when they don't understand something and open up to each other. Without a foundation of trust, a team can't work together effectively and its productivity suffers. Our focus on teamwork complements our agile approach to application development.
THEARLING: There are numerous things that organizations overlook when implementing advanced analytics. One is the importance of curating your data -- that is, deciding what data to make available for analysis, and organizing that data so it's easy for users to find and access. This is not just data quality, which is also important, but for different reasons. Curating data is something a lot of organizations overlook or undervalue.
Another key success factor revolves around putting analytical models into production. It's critical for organizations to establish robust processes and build an automated infrastructure to manage predictive models in a cost-effective and compliant manner. This is especially true for companies that generate tens of millions of analytical scores a day, and whose models are subject to external regulations. These production-oriented processes are often necessary to comply with various regulations governing the use of consumer information and analytical models. And, when done right, they are also a source of competitive advantage.
TAYLOR: The three keys to creating a successful analytics program are: 1) obtain strong executive understanding and support, 2) deliver quick, meaningful business wins, and 3) make one person and group accountable for the program.
Executive support. We had great executive support when we built our data warehouse in 2004, and we quickly delivered good results. It took a bit longer to garner the same level of support for our analytical solution in 2010. Although our data warehousing program was alive and well, we distributed the delivery of analytical applications to individual departments with no single point of accountability. It took us about 12 to 18 months to clarify the difference between data warehousing and analytics to our executive team and gain funding for a new analytical initiative. But once we received executive team support, we quickly implemented the analytical platform and then started reselling analytical services to other health plans.
Deliver value along the way. It's also important to deliver value along the way. You can't wait two years to produce something. For instance, while we were building our analytical infrastructure, we built two applications for executives to demonstrate the emerging value of the system. One was a financial dashboard for mobile devices that replaced a 76-page PDF document, and the other was an analysis of the federal subsidies that our members might receive under the new Affordable Care Act. These small, but valuable, business wins gave executives confidence that we would execute the analytical vision.
Copyright info
This excerpt is from the book Secrets of Analytical Leaders: Insights from Information Insiders by Wayne Eckerson, published by Technics Publications, LLC, Westfield, N.J. ISBN 978-1-9355043-4-4. Copyright 2012, Wayne Eckerson. For more info, please visit the Technics Publications website.
Clear authority. Finally, it's important that one person heads the analytical initiative and is held accountable for its performance. We tried a matrix approach in which both IT and business departments manage the data warehousing program, but that didn't work. We later pulled the program out of IT and put it directly under the CIO, with the COO as the executive business sponsor, and then handpicked staff to serve on the team. By knocking down some organizational walls and putting one person in charge with the right team members, we achieved much better results.
O'CONNOR: The way that we'll succeed at Nokia is to create a culture that treats data as our most critical asset. The keys to making this happen are executive support, evangelism, and collaboration. I don't have technology at the top of this list because that part comes easy to people at Nokia.
We have many smart, technical people at Nokia who have used open source tools to download data and create information silos. However, we have to stop creating these silos if we want to achieve our vision of "smart data." We have an executive leader who believes that "smart data" is Nokia's differentiator going forward, and he makes it clear that data silos are no longer an acceptable way of doing business. The goal is a single, unified data asset.
Since executive mandates alone do not ensure successful change, we also need evangelism to ensure analytical success. Our key executive sponsor highlights "smart data" stories at internal employee events, customer meetings, and industry keynotes. Internally, we document and publish these success stories to remind employees about the importance of analytical projects.
And the third key to our analytical success is collaboration. Although we have a centralized analytics group responsible for building the technology ecosystem and shared data asset, we rely on subject matter experts in each business group to develop analytical applications and services to drive our smart data initiative.
Summary
There are many factors involved in running a successful analytics program. But providing the right culture, people, organization, architecture, and data are the basis for success. We'll examine the outer layers of the framework in Part II of this book -- that's the "soft stuff" of people, projects, and processes.
Dig Deeper on Business intelligence project management