Guido Vrola - Fotolia
Better Tableau implementation gives BI dashboards a boost
Building good Tableau dashboards is about more than just pretty visualizations. Users say the process should incorporate strong data management practices and a sharp business strategy.
LAS VEGAS -- When the telecommunications group at General Motors initially began using Tableau dashboards to track service requests and incidents, reports had such long load times that managers couldn't use them effectively.
"It really wasn't something they could use on their own, let alone use in a meeting," said Katrina Botting, who heads data strategy and intelligence for GM's telecom organization, in a presentation at Tableau Conference 2017.
It wasn't until last year, when Botting and her team learned how to effectively utilize the software's data extract feature as part of GM's Tableau implementation, that reports loaded quickly enough to be truly self-service. The extract feature loads a snapshot of data stored on disk into memory; now, virtually all reports are based on extracted data, and reports that once took several minutes to load do so in seconds, Botting said.
Managers in the telecom unit used to meet with each other just to make sure they all had the same data to work with, she added. Now, they meet to discuss issues presented in the dashboard data.
Many enterprises decide to launch a Tableau implementation because there's a very low technical bar for getting started. Pretty much anyone can download the desktop version of Tableau Software's technology or upload data to the cloud version and start playing around with visualizations. But to get real insights that can benefit the enterprise out of the software at scale, users have to know more than just how they want their visualization to look, according to Botting and other conference speakers.
Pay attention to data structure
For Allrecipes.com, a division of media and marketing services company Meredith Corp., it took a focus on data engineering to move from static, canned reports to something more useful. Grace Preyapongpisa, vice president of business intelligence for Meredith's digital operations, said better structuring of queries was helpful to her group in speeding up report load times and making dashboards more interactive.
Earlier this year, for example, her team finished a new version of an internal reporting dashboard that identifies trends in consumer packaged goods purchasing. Sales teams at Seattle-based Allrecipes use the information to help them sell advertising space on the site, which publishes recipes and other food-related content.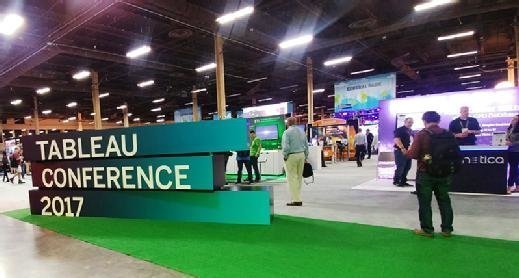 The first version of the dashboard, created in 2016, was static, and every metric pulled data from different places, in each case using a unique SQL query. "We realized we had a lot of data in a lot of different places," Preyapongpisa said. "All the work was highly manual. We needed to standardize the process for getting these insights so they could be repeatable."
She described the newer version of the sales dashboard, which went live earlier this year, as more heavily engineered. A lot of the work went into behind-the-scenes efforts to restructure the queries that Tableau runs to pull data out of the company's proprietary database, making them more repeatable and less specific to individual reports. This has made the sales dashboard, and others, more self-service and queryable on the fly, she said.
Now, a sales team member going into a meeting with a sausage manufacturer can look up the popularity of lasagna recipes and even show the manufacturer where most people are making sausage-based versions of the dish. And rather than these types of reports being canned, users can drill down into different aspects of the data on their own, Preyapongpisa said.
Keep your Tableau dashboards focused
One thing that often happens after a successful Tableau implementation is people ask for more reports and dashboards. That's what happened to Zach Sippl, director of business intelligence at restaurant chain Chipotle Mexican Grill. He and his team brought in Tableau about a year ago to build a dashboard to track store performance and other sales-related metrics, like general economic forecasts.
Sippl said the dashboard was an immediate hit with Chipotle's executive team and line-of-business managers. After that initial success, they started asking for more functionality in the dashboard -- things like stock performance data and supply chain information.
But Sippl said it's important to avoid being distracted by these kinds of shiny objects and to stay focused on the core functionality of a Tableau implementation. The dashboard primarily tracks customer satisfaction scores, customer throughput at locations and sales numbers, all of which are the core metrics by which Denver-based Chipotle measures its overall corporate performance.
"These measurements are tied to your performance review -- do you get a bonus, a promotion -- and what we talk to our investors about," Sippl said. "As long as we kept that alignment, we were very effective."