End-user focus central to solid data visualization process
BI teams often fail to deliver on the promise of data visualization applications, unless they combine effective visualization techniques with input from business users on what's really needed.
For many organizations, finding the right balance between complexity and comprehension on data visualization initiatives can be a tall order. During a roundtable discussion at the 2015 Pacific Northwest BI Summit in Grants Pass, Ore., Claudia Imhoff, president of consultancy Intelligent Solutions Inc., said she sees a lot of data visualizations that present "incredibly artistic views of information" but are unintelligible to corporate executives and other business users. "At some point, it's overkill," Imhoff said. "Yeah, they're pretty, but what does it mean?"
Successfully managing the data visualization process is especially challenging in big data analytics applications. In a survey conducted earlier this year by research and education outfit TDWI, only single-digit percentages of 374 respondents described their organizations as very successful at doing visual analysis of various forms of big data, including Hadoop files, sensor data, information stored in NoSQL databases and social media data. And in each of those cases, the combined percentage that said their companies were very or somewhat successful at analyzing and visualizing big data was less than 30%.
Chart design overload isn't the only issue holding companies back in using big data visualization tools and techniques effectively. On another question in the TDWI survey, 338 respondents cited a variety of barriers standing in the way of their efforts to access, analyze and visualize Hadoop and NoSQL data, including a lack of both skills and business interest (see chart).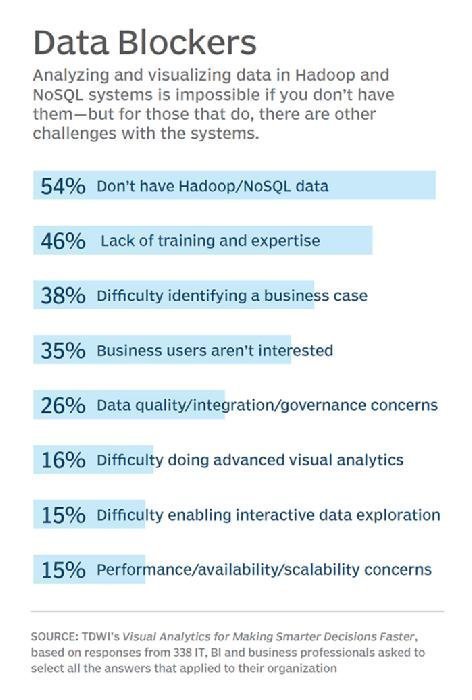 But it isn't just big data: The responses to a third question showed only "moderate success in using data visualization functionality" to improve the overall analytics process in organizations, TDWI analyst David Stodder wrote in a report published in July. For some business intelligence and analytics managers, the quest to do better than that on data visualization projects involves a heavy dose of input from the business users who are the intended audience for charts, graphics and dashboards.
Keeping visualization users in mind
For example, to help guide his team's development of reports and BI dashboards with embedded data visualizations, Chris Gray, IT director at Swiss Farm Stores, a chain of 13 drive-thru grocery stores in the Philadelphia area, works closely with business managers to assess and update their information needs.
At the outset of each new project, Gray sits down with the heads of departments who will use what he's planning to build. And then he continues to follow up after the initial development work has been completed, reconvening with the department heads every three to six months. At those meetings, he gauges how end users have taken to different elements of a report or dashboard and checks on opportunities for additions or modifications that could make it more informative or easier to use.
We value our users' input, and that's a strong feeling of mine, to involve the users in the process.

Chris GrayIT director, Swiss Farm Stores
The reports and dashboards provide views of sales and purchasing data pulled from the ERP system at Swiss Farms, as the company – based in Broomall, Pa. -- refers to itself; the former are primarily used by its executive team, while the latter offer more on-the-fly information for store managers. Involving the eventual users in development planning for the data visualization process helps ensure that what gets delivered is relevant to the business and actually gets used, Gray said.
And ultimately, he added, he has to trust his users to know their needs and be able to articulate them. For Gray, that doesn't necessarily mean asking them to fill out a lengthy technical spec sheet -- it just requires talking to them about how new data visualizations could help them do their job more effectively. "We value our users' input, and that's a strong feeling of mine, to involve the users in the process," he said.
Gray also tries to tailor visualizations to specific job functions by breaking out targeted versions of reports and dashboards for individual store managers, executives and department supervisors. Without that level of specificity, visualizations can become cluttered and less useful, he said. "Data that looks meaningful to one store may not look meaningful to others. Once you have a graph but then clog it up with [too much data], it isn't as useful."
Visual appeal matters in visualizations
Dewayne Washington, BI manager at Dallas/Fort Worth (DFW) International Airport, takes a slightly different approach to managing the data visualization process, giving the developers on his team leeway to treat functionality requests from business users as a guide instead of must-do mandates. But he also has the developers sit with users or follow them around the airport while they do their jobs to help get a better idea of their data and visualization needs.
Washington puts a big emphasis on how reports and dashboards look as well -- the result of a lesson in data visualization process best practices that he learned the hard way.
The BI team's biggest internal customer is DFW's office of revenue management, which is responsible for making sure that retail stores, restaurants, parking operations and other airport services are profitable. Washington said his team used to just deliver reports in whatever form the requests came in from workers in the department. But that led to trouble when the executive vice president of revenue management or other top officials wanted to review several different reports. For example, revenue increases were shown in blue in some and black in others. The lack of consistency in how metrics were presented often left executives confused when they looked at reports, he noted.
To address that problem, the BI team instituted a set of internal standards for data visualizations, ensuring that the colors used in charts and other graphical elements are consistent. That has enabled busy airport execs to make better use of what the team builds, Washington said. "It may sound very trivial, very simple, but it did wonders for our executives."
In addition, he has a staff member referred to as "the beautifier," whose sole job is to take reports and dashboards developed by other workers and make them more visually appealing. "It has to be beautiful," Washington said, adding that there's a practical reason for the focus on eye-catching design: He thinks it makes the end products of the data visualization efforts more useful.
Ed Burns is site editor of SearchBusinessAnalytics. Email him at [email protected] and follow him on Twitter: @EdBurnsTT.
Dig Deeper on Data visualization software