Petya Petrova - Fotolia
Manage
Learn to apply best practices and optimize your operations.
How to boost the value of BI in today's analytics landscape
Traditional BI reporting still gives businesses valuable information. But its value can be increased by incorporating it into a broader analytics platform with more-advanced tools.
Traditional business intelligence isn't the most exciting technology on the BI and data analytics spectrum these days, but that doesn't mean the value of BI has diminished in today's enterprise -- it just needs some augmenting to pay real business dividends.
"Business intelligence is changing, and in order to be competitive, we found that we had to change with it," said Rory Abbazio, portfolio director of data analytics and cloud innovation at electric and gas utility company National Grid.
The biggest change in BI to occur in the last few years is the shift to self-service, an approach that is now the de facto industry standard for new applications. This change has devalued basic reporting in the eyes of some users and elevated user-driven data exploration.
Traditional reporting isn't dead, by any means. For example, Abbazio, speaking at the Gartner Data & Analytics Summit 2018 in Grapevine, Texas, said he and his team still build and maintain canned reports and executive dashboards. But to make a bigger impact on business operations, he said, those types of things need to be incorporated into a broader analytics platform that also includes self-service tools and advanced analytics technologies.
"We wanted to enable all the capabilities on the analytics spectrum instead of just focusing on reports," Abbazio said. "We wanted to open ourselves up to emerging things like AI and augmented intelligence, too."
To do so, his team built an enterprise analytics portal that functions as a one-stop shop for everyone's data needs at National Grid. The web platform has standard BI reports and self-service data exploration functionality built into Tableau and incorporates Alteryx software for data preparation. It also includes intensive data science tools, like R, Python and H2O.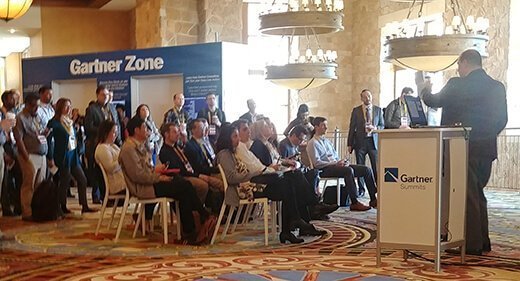 Abbazio said the point of bringing all this together is to acknowledge that the old roles of information consumers, BI report developers and data scientists are merging. To ensure the continued value of BI, people need to be able to get the information and conduct the analyses they need at the time they need it, regardless of their role.
"There aren't just simple end-user consumer roles, but many that have to be facilitated," he said.
New roles require new delivery models
Enterprises across industries are dealing with this kind of shift in roles associated with reassessing the value of BI and analytics use. As more businesses adopt data-driven strategies, the number of line-of-business workers who need access to data and analytics capabilities is increasing.
James Richardson, a Gartner analyst, said this is forcing organizations to adopt new models for delivering these capabilities.
The historic model of IT-delivered BI reports doesn't work in the modern enterprise because it takes too long to develop and deliver reports, and static BI reports have limited utility, Richardson said. The shadow IT approach, in which lines of business implement their own tools, creates redundancies and siloes.
Richardson instead recommended a hybrid approach, which involves creating a centralized analytics team that sets governance, best practices and tools. Then, a collection of decentralized teams embedded in lines of business that report to the centralized group leads BI and data analytics initiatives on behalf of their business units.
"This represents the reality of what happens," Richardson said. "People always used Excel to analyze data in a distributed way. What we're saying now is, we can provide you better tools."
Flexibility is key to BI and analytics value
Joao Tapadinhas, a Gartner analyst who also spoke at the summit, said building flexibility into analytics platforms is key to maximizing the value of BI today. The typical function of BI, monitoring key performance indicators to understand how your business is performing, is still important -- but it's not going to revolutionize a business, Tapadinhas said. So he recommended incorporating it into other higher-value capabilities.
Automation is going to drive a lot of this, according to Tapadinhas. As software vendors incorporate advanced machine learning and AI into their platforms, he said enterprises will be able to put certain BI functions on autopilot, enabling users to simply check in on some predefined metrics when the information is needed rather than requiring teams of developers to build and maintain reports.
"The tools that you have today -- Qlik, Power BI, Tableau -- those tools will be able to support a wide range of analytics capabilities," Tapadinhas said.
Dig Deeper on Business intelligence software