News
Stay informed about the latest enterprise technology news and product updates.
Pacific Northwest BI Summit 2012: 'Big data' analytics and more
Get insight on "big data" analytics, mobile collaboration and other business intelligence and data warehousing trends from participants at this year's Pacific Northwest BI Summit.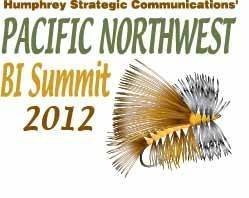 SearchBusinessAnalytics.com will once again be covering the Pacific Northwest BI Summit this year. Now in its 11th year, the summit, held annually in Grants Pass, Ore., by Humphrey Strategic Communications, brings together a small group of consultants and vendor strategists to discuss business intelligence (BI) and data warehousing trends, issues and best practices.
The Pacific Northwest BI Summit 2012 took place July 12-16, with three days of sessions. Discussion topics on the agenda included "big data" and big data analytics, the evolving enterprise data warehouse, mobile collaboration on decision making, Agile BI and selling BI investments to senior executives. In another session, participants offered their predictions of what's to come in BI and data warehousing.
SearchBusinessAnalytics.com will be publishing articles about the discussions as well as video interviews with some of the participants. New content will be listed here as it's published -- bookmark this page and check back for links to our summit coverage.
Articles:
Mobile business intelligence and collaboration: Natural partners in an unnatural world
Mobile BI and collaboration tools are natural partners, but supporting that kind of an environment may require more philosophy than technology.
To get value from 'big data,' two leading roles must share the stage
When big data first rolled into town, data management issues received top billing. Experts now say another player should share the spotlight: analytics processes. But, they caution, big data can affect how organizations approach analytics.
Pacific Northwest BI Summit attendees look ahead, predict BI's future
In making their predictions for the next 12 months, the analysts and vendor execs at the Pacific Northwest BI Summit 2012 focused on analytics, data management and integration. But they couldn't avoid giving some of the spotlight to big data and big data analytics.
Videos:
BI technology investments require a message and a messenger
The one-two punch for BI and data management technology investments involves targeting what executives want to hear and who they want to hear it from, according to Jill Dyché, vice president of thought leadership at SAS Institute Inc. and a long-time industry analyst.
Managing 'big data' is out; analyzing 'big data' is in
Industry analyst Colin White is tired of all the talk about the three V's of "big data." He instead wants to focus on the use cases -- the analytics -- of big data.
Data scientists can add business value, but not for everyone
Data scientists are sweeping the analytics profession, at least as far as hot terms go. But not all businesses have the kind of data that requires the skills and capabilities of a data scientist, says consultant Shawn Rogers.
Rogers: Businesses shift from data warehouse to 'hybrid data ecosystem'
Consultant Shawn Rogers explains the emerging process of augmenting traditional data warehouses with an approach that puts different kinds of data on systems that are a good fit and then pulls everything together via a logical architecture.
Time for collaboration and mobile BI to join forces, Imhoff says
Consultant Claudia Imhoff discusses the challenges of combining collaboration capabilities with mobile BI tools and shares tips on how businesses can get over those hurdles.
McKnight: Agile methodology could be game changer for BI projects
In an interview, consultant William McKnight said that introducing an Agile methodology such as Scrum could help organizations accelerate BI projects while maintaining the flexibility to deal with change.
As usual, this year's summit featured five industry experts:
Jill Dyché, vice president of thought leadership at SAS Institute Inc.
Dr. Claudia Imhoff, president and founder of Intelligent Solutions
William McKnight, president of McKnight Consulting Group
Shawn Rogers, research vice president at Enterprise Management Associates
Colin White, president and founder of BI Research
You can use the Twitter widget embedded below to follow the post-summit conversation about the event. And you can comment yourself and ask questions of the participants by using the hashtag #BISUM.