A New Perspective on BusinessObjects XI for Performance Management
The latest release of BusinessObjects XI provides enhanced business intelligence and performance management capabilities.
This article originally appeared on the BeyeNETWORK.
When I was asked to investigate why BusinessObjects XI Release 2 (BOE XI 2) had become so popular, I felt a little uneasy. I've never been really impressed with all-encompassing business intelligence (BI) software solutions, instead preferring small homegrown solutions that are specifically tailored to a given business. I believed that no one software solution could address every niche market that still needed business intelligence.

After our CTO installed BOE XI 2 on a server in the office, I logged on and tried it. Two hours later, I changed my perception regarding tailored business solutions and jumped straight onto the BusinessObjects XI bandwagon. I thought: "How much would it cost to hire a programmer that could get all your business intelligence needs met, give you access to ad-hoc reporting, server clustering and shared processing, not to mention, every other feature that Business Objects offers?" With this in mind, I realized that the cost is amazingly low for the value provided.

I was more impressed with using the system than from reading about it in the white papers. Here are some of the things I found, which helped change my opinion of BOE XI 2.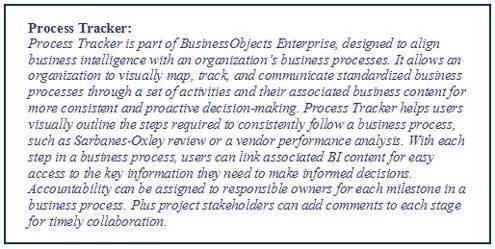 Figure 1: Process Tracker aligns business intelligence with an organization's other business processes.
Well, that's nice. Why would you use a tool that basically replaces another tool and adds no perceived value? The answer is simple: you wouldn't… until you actually try it. Truthfully, most companies are exceptionally inefficient. It's usually not because of external communication, customer relations, marketing or product development. The number one problem, most of the time, is internal. Communication within a company is difficult. Everyone has deadlines, and no one wants to have to do more than is required. When a business process is developed, it's usually very thin, and most of the time it is focused on the bottom line. But when a business process is well defined and "chiseled in stone" productivity increases. There is also a documented record of workflow, and perhaps most importantly, a system for accountability.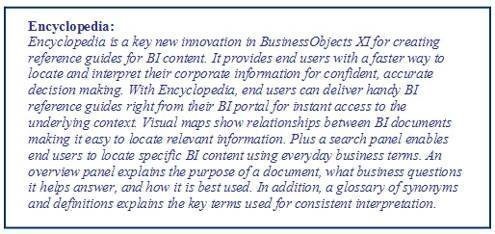 Figure 2: The Encyclopedia provides end users with a faster way to locate and interpret their corporate information for confident, accurate decision-making.
This is one of my favorite additions to the Business Objects suite. If you've ever heard the excuse "I wasn't trained," then you will understand what I mean. Besides providing easy access to important information, it does an excellent job with document management.

Oftentimes, newly implemented systems run perfectly— every file is in its place and any needed information can be found with three or four clicks of the mouse. This is usually true for the first month or two. Eventually, though, documents get misplaced, mislabeled, stored on someone's personal hard drive or just mysteriously vanish.

How many times have you looked for a file, knowing where it should be, but found nothing remotely close to what you need? The BOE XI 2 Encyclopedia now keeps track of all this information for you. The interface is straightforward, and the search feature, though no "Google," is better than anything I've ever seen for document management.

Figure 3: The Discussions feature provides threaded notes on a specific report, document or dashboard.
It struck me as somewhat odd that such a small amount of information was given for the new Discussions feature. In fact, I was excited when I saw it! Every custom business intelligence solution I've ever developed has one thing in common; I've always included discussions for every single document or process. I've received nothing but praise and enthusiastic thanks for doing this.

Unfortunately, the web-forum does not receive the respect it deserves in the business intelligence world, especially when those forums are object oriented. For example, you have an expense report posted on your company portal. That's great, everyone can log in, look at it, glean what information they need, close it and never see it again. What if someone has a comment about the report or they're not sure who would be best to answer their question? If every time you open a document like this, you have the ability to post your thoughts for everyone else to see, not only do you get quick answers to your questions, but also someone else might see the discussion that has the exact same question. It saves time, maintains a record of discussions and can be used to improve the quality of the object the comments are posted.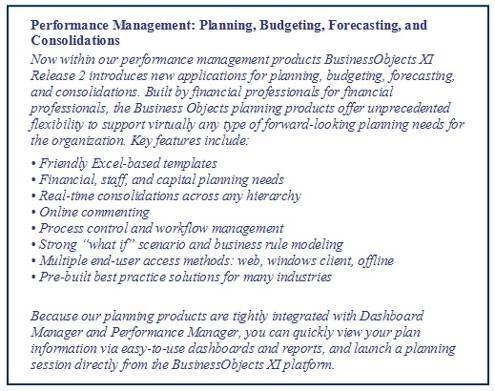 Figure 4: The Performance Management feature introduces new applications for planning, budgeting, forecasting and consolidations.
Performance management is extremely valuable for any company. Business professionals know this and are doing everything possible to maximize its potential and expand its use. While the new Business Objects tools for past performance analysis are fascinating, they are not what peaked my interest. It was the forecasting application that really impressed me in BOE XI 2.
Forecasting. It is the Business Intelligence feature of the future (no pun intended). The strong "what if" scenarios, and business rule modeling mentioned above excerpt are building the foundation for a whole new wave of technology and capability in business intelligence.

If every aspect of a company is being monitored and cataloged (including performance of business partners, press releases from competitors and relative reactions/back lashes from any of these), what is keeping the software from allowing the consumer to give hypothetical scenarios? Absolutely nothing. But it is new ground that will take years to fully develop. The possibilities are astonishing. What this technology will do for almost any company is even more staggering.

I'm sure that there are other business professionals who believed as I did: That home brewed systems, though not as dynamic, are a much better fit for most companies. However, BusinessObjects XI Release 2 has permanently changed my mind. And I'm sure it will continue to change minds in the future. Although this is just one step along a road of thousands, the foot falls heavily today and surely points towards the future.
Dig Deeper on Corporate performance management best practices