News
Stay informed about the latest enterprise technology news and product updates.
Where Are the Business Analysts?
"All of the technology, data, information, measures and metrics that we can deliver are useless without business analysts, but the quality of results and the evolution of business analyst as a profession are at risk."
This article originally appeared on the BeyeNETWORK.
Measures, metrics, data, information, OLAP, dashboards, scorecards, charts, statistics, graphs, trends, patterns … Where is the most critical link in the analytic value chain? I believe that none of these things holds the top spot. None can claim to be the piece that binds it all together. That distinction belongs to the least technological among all of the business intelligence (BI) elements – the business analyst (BA). All of the technology, data, information, measures and metrics that we can deliver are useless without business analysts. They are the people who make sense of the data, who determine what it means and who devise courses of action based upon their findings.
What is it that makes business analysts so important? They are the people who turn data into understanding, and understanding into business process changes. They are the ones who understand what motivates customers to buy and what motivates employees to produce. They model, they anticipate, they experiment and they innovate. Business analysts don't produce reports, they produce insight.
Business Analyst Confusion
Despite the critical role of the business analyst, the term itself seems to be a source of confusion. "Business Analyst" as a job title is even ambiguous and uncertain. In the IT community, we think of a business analyst as a systems analyst who is focused on gathering business requirements for systems. In business, the analyst is generally one who looks at data to identify trends, seek patterns, develop forecasts, etc.
This very recent exchange in the Business Analyst forum at Modern Analyst illustrates that confusion exists even among those who have a business analyst job title: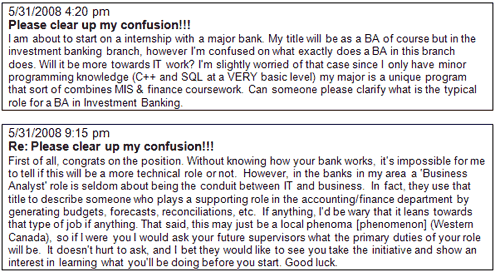 Even the International Institute of Business Analysis (IIBA) – the leading membership organization for business analysts – illustrates some of the confusion. The IIBA websitedescribes many business analyst roles including "requirements management, systems analysis, business analysis, requirements analysis, project management or consulting." But their Business Analysis Body of Knowledge® (BABOK®) appears to focus mostly on the IT role of a business requirements analyst.
So what about the business analysts who use data, understand, model, anticipate, experiment, innovate and produce insight? What are their job titles? What are their skills? And where do we find them?
Professional Analysts vs. Analytic Professionals
In some cases, the business analysts are true analytic professionals. They are people who design and conduct experiments, develop and refine analytic models, and perform data mining, statistical analysis and predictive modeling. These are typically people with advanced degrees in fields such as statistics, operations research, logistics and economics. These are the true analytic professionals – analysis is their profession.
If your company is Nielsen or Gallup – if data analysis is your business – then you have these professionals. But if you're like most of us, data is not your business, it is simply a means to collect and report facts about the business. It is not statisticians and data miners who seek insight. It is managers of the business who become de facto business analysts. The controller performing revenue and cash flow analysis, the compliance officer performing risk analysis and the marketing manager analyzing campaign effectiveness – all have some business analyst roles and responsibilities. These people are analytic professionals though they are not professional analysts.
In fact, every product or process manager fills a business analyst role to be good at what they do. If you don't look at the data and ask what it can tell you, then you're likely not suited for management. If you do look at the data and ask what it means, then you are doing business analyst work.
Clearing the Confusion
The work performed by business analysts is important. This is generally true for all business analysts whether data, process or system oriented. Yet the quality of results and the evolution of business analyst as a profession are at risk as long as the term remains ambiguous, uncertain and confusing. Continued growth of analytic technology and business analytics as a management practice escalates the problem. The time has come to clear the business analyst confusion.
A good first step toward clarity is to be more careful in the language that we use. Business analyst is a broad term with many situation-specific meanings. Let's begin by adding a qualifying word or two each time that we use the term business analyst. That simple idea leads to language such as:
Business Performance Analyst


Business Data Analyst


Business Process Analyst


Business Requirements Analyst


Business Systems Analyst


etc.
A logical second step is to distinguish between business analyst titles, roles and responsibilities. If hiring managers and HR departments describe jobs using more precise titles and clear descriptions, then we can know with confidence the kind of business analyst work to be performed. If non-BA job descriptions express the implied BA responsibilities (performance, data, process, etc.), we will become more aware of the de facto work that represents much of the business analysis being performed.
These are the first steps to answering the question "Where are the business analysts?" And they are the first steps to recognizing business analyst as both a profession and an important management responsibility. Both are needed if we are to realize the full potential of business analytics.
Dig Deeper on Business intelligence best practices