Sergey Nivens - Fotolia
News
Stay informed about the latest enterprise technology news and product updates.
New no-code data modeling prowess added to Tableau platform
Tableau 2020.2, the latest update from Tableau, features enhanced no-code data modeling capabilities and a mobile-first tool to view key performance indicators in a single location.
Tableau unveiled its latest platform update Thursday, featuring enhanced no-code capabilities that simplify data modeling and a mobile-first tool called Metrics that enables customers to view key performance indicators in one location.
All features included in Tableau 2020.2 are now generally available.
The release comes about 11 months after Tableau, founded in 2003 and based in Seattle, was bought by Salesforce for $15.7 billion and just six months after the purchase received final regulatory approval and the companies were finally permitted to begin collaborating.
Given the length of time it's expected to take for Tableau and Salesforce to integrate, analysts don't yet see significant influence from Salesforce in the features included in the updated platform, which they said appears to be Tableau's attempt to add newer features to its polished platform that some smaller competitors already had.
Donald Farmer, founder and principal at TreeHive Strategy, said he sees few signs of Salesforce's influence in the latest update of the Tableau platform.
"There's nothing you could look at and say they're doing that because they've been acquired by Salesforce," he said. "This is stuff I think they would have done anyway.
"I think you probably won't see big changes in Tableau, but what we will [eventually] see is Tableau analytics more and more integrated into the Salesforce workflow, and into Einstein, but that will be a matter of using Tableau as a visualization or now even a data prep engine," Farmer continued. "I don't think Tableau users will see that much of a difference."
While observers don't yet see significant collaboration between Salesforce and Tableau reflected in the Tableau platform, Atrium, a consulting firm that helps businesses adopt a data-driven culture, recently developed an offering that combines the predictive modeling capabilities of Einstein Discovery with Tableau.
Also, Tableau's business intelligence tools are an important part of Work.com, a set of products and services from Salesforce designed to help businesses reopen after closures triggered by the COVID-19 pandemic.
Tableau was founded on the premise of trying to extend access to analytics beyond the exclusive domain of data scientists and executives to ordinary business users, said chief product officer Francois Ajenstat.
The improved no-code data modeling capabilities in Tableau 2020.2 are part of that strategy, he said.
Previously, Tableau's data modeling capabilities required advanced skills. Among other skills, the platform required knowledge of how to create data joins and an understanding of database management systems. Now, however, users can create data models using a simple drag-and-drop interface that automatically creates joins between different data sources and leads to more focused queries.
The most important thing for us is that we're on this journey to democratize analytics. That's our priority, so we always try to find the things that are hurdles along the way and how to make the complex simple.

Francois AjenstatChief product officer, Tableau
"The most important thing for us is that we're on this journey to democratize analytics," Ajenstat said. "That's our priority, so we always try to find the things that are hurdles along the way and how to make the complex simple."
Ajenstat added that the new data modeling capabilities -- which come soon after recent additions to the Tableau platform such as Ask Data, Explain Data and Dynamic Parameters that use AI to help simplify the analytics process -- stand to benefit data scientists in addition to business users.
"For the specialists, we're going to make their tasks easier so they can spend more time doing data analysis," he said. "Even though they may know how to do joins and all that stuff, we're going to remove that task so they have more flexibility. For the rest, for the people who may be intimidated by it, we're removing that intimidation factor."
Metrics, meanwhile, is a mobile-first application that can also be used on desktop computers and enables business users to see their KPIs in one location.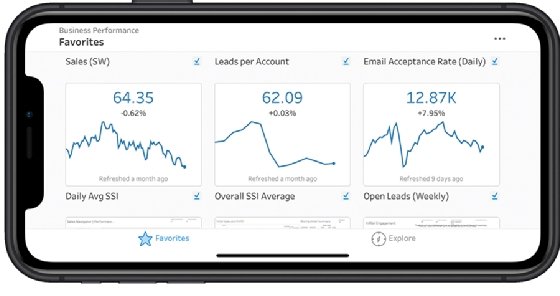 Ajenstat said users told the vendor that in order to do their jobs they were being forced to toggle between multiple dashboards to find the information they needed. They asked for a tool that would unify KPIs and other indicators in the same place, similar to how Apple iPhone's stock and weather apps give users a simple view of relevant information.
In addition to the improved no-code data modeling capabilities and Metrics, Tableau 2020.2 includes Esri ArcGIS support. The feature enables users to visualize information from Esri, a geospatial data vendor, in Tableau. The new release also includes an improved version of Ask Data, Tableau's natural language processing tool, and a native connection between Tableau Prep Builder and Salesforce.
"I wouldn't say it's particularly innovative, but it's nonetheless interesting," Farmer said.
In particular, he said he's intrigued by how the Tableau platform is expanding beyond the visualization stage of analysis by continuing to add features like data preparation and data modeling before visualizing data, and features like Explain Data that help after visualizing data.
"That's notable," Farmer said. "Tableau has always been the best at communicating something you discover, but what do you do with the insight you've made? They're not quite at the point where they're building low-code or no-code applications at the end of Tableau, but it looks like they might be moving in that direction."
Dig Deeper on Business intelligence technology and platforms