apops - Fotolia
News
Stay informed about the latest enterprise technology news and product updates.
Sisu adds new ways of answering 'Why?' to analytics platform
BI vendor Sisu on Tuesday revealed its second update since emerging from stealth in late 2019 featuring new tools aimed at quickly identifying why changes occur in data sets.
Sisu unveiled two new tools for its analytics platform on Tuesday, adding speed to its ability to discover the reasons behind changes in data sets and expanding into new areas of query analysis.
Sisu, founded in 2018 and based in San Francisco, is focused on answering the question "Why?" in analytics. The vendor, at its most basic level, provides an automated system for monitoring changes in metrics and emerged from stealth in late 2019 armed with $52.5 million in new venture capital funding after having secured $14.2 million in its initial funding round.
The new tools mark Sisu's second platform update since its initial release and include one to quickly diagnose the results of A/B and other group comparison tests and one to do faster text analysis.
Both move Sisu's capabilities beyond where they were at launch when its analytics platform was able to provide customers with an overall understanding of why key performance indicators (KPIs) were changing but its comparison analysis was limited to time comparisons such as month over month or year over year. Both were inspired by actual use cases from customers whose problems Sisu wanted to solve, according to Berit Hoffmann, vice president of product at Sisu.
"We're really unlocking entirely new kinds of analysis that we couldn't do before," Hoffmann said. "They both unlock different capabilities laddering up to our focus of answering this question of 'Why?' and helping companies get underneath why their metrics are changing in a way that is faster, more comprehensive and more proactive."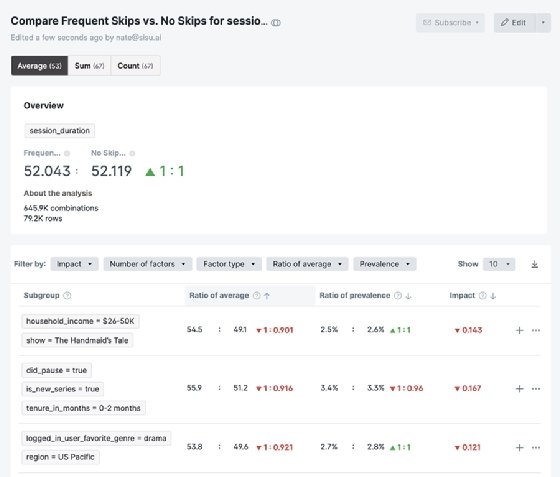 According to Sisu, by using augmented intelligence and machine learning capabilities, the vendor's new comparative testing tool is able to automatically test thousands of hypotheses in order to explain the results of different comparisons.
One example, according to Hoffmann, is a media company using comparative testing to understand not only why certain audiences respond one way to a given television episode or movie and different audiences respond another way, but also why subsets within an audience respond differently. Armed with that information, the company can make more targeted, data-driven decisions about which projects to pursue and which to reject.
We're really unlocking entirely new kinds of analysis that we couldn't do before. They both unlock different capabilities laddering up to our focus of answering this question of 'Why?' and helping companies get underneath why their metrics are changing.

Berit HoffmannVice president of product, Sisu
Meanwhile, for customers who want to use text analysis to discover data points that may be related within their unstructured data, Sisu's new tool automates the process of finding common terms and categories within the data as well as other potential correlations. The result, according to the vendor, is a reduction in the time it takes to prepare data for analysis.
While each of the new tools advance the capabilities of Sisu's analytics platform in their own way, the speed and automation that are common to both will benefit the vendor's customers, said Dave Menninger, research director of data and analytics at Ventana Research.
"The challenge with A/B testing is which scenarios to compare, and if you are doing your analyses manually, you can't possibly compare all possible scenarios," he said. "If you automate these processes as Sisu has done, you can evaluate many more scenarios. The challenge with text analytics is that it is a multistep process. Sisu has automated these processes, making them more accessible."
Menninger added that, in its short existence, Sisu has been able to differentiate itself in the crowded analytics software market. Its premise, he said, is similar to other vendors that have tools to explain analytical outcomes. Tableau, for example, offers Explain Data and Yellowfin offers Stories, but Sisu takes that explanation about why a KPI changes to another level.
"The 'explain' features [from other vendors] are only at a point in time," Menninger said. "The Sisu approach is to run these analyses constantly so you always have an explanation of what is going on."
Hoffmann said Sisu will continue to focus on being able to quickly, comprehensively and proactively discover the reasons behind changes in KPIs as it updates its analytics platform.
And the vendor has an even greater sense of urgency now given the effect the COVID-19 pandemic is having on businesses and the important role analytics is playing in their ability to survive, she said.
"We've never been in an environment where it's been harder to predict what's going to happen, so being able to react very quickly when there are changes and understanding why those changes happened is something that has really stood out to us," Hoffmann said. "Providing more automation and continuous and proactive monitoring that takes the burden off of a human is something that's going to be a focus."
Dig Deeper on Business intelligence technology and platforms