Kit Wai Chan - Fotolia
Survey: BI implementation remains top software priority
You might think that today's IT world is all about big data, but TechTarget's 2016 IT Priorities Survey shows that mainstream BI, analytics and data warehouse software is still a hot commodity.
Despite the continued prominence of big data and growing interest in advanced analytics practices, traditional business intelligence, analytics and data warehousing remain the top priority for businesses, according to TechTarget's 2016 IT Priorities Survey.
BI, analytics and data warehousing was the top software category enterprises plan to implement in 2016, with 27.5% of respondents listing it as a priority. BI implementation and data warehouse deployment beat out big data analytics (19.4%), data integration (18.5%) data governance and quality (17.1%) and data visualization (16.1%).
Other top software priorities in non-data-centric categories included packaged business applications like CRM and ERP (20.9%), mobile applications (20.9%) and business process automation (17.5%). The survey included responses from 382 IT workers and business analysts in North America.
"I can see a lot more predictive analytics being built into systems, but it's not completely necessary if you track your own trends and follow up," said Colby Lutz, a BI analyst at Trivergent Health Alliance, a management services company formed by three Maryland hospitals.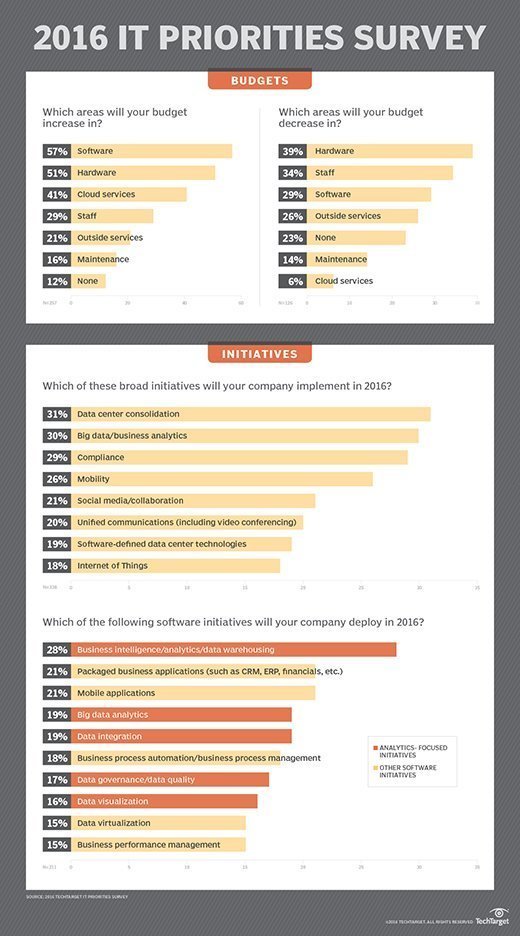 Lutz spends the majority of his time developing reports for Western Maryland Health System, one of the providers in the Trivergent network. The reports track patients who frequently visit the emergency department and identify possible ways to address their health concerns before they show up the next time. The reports also monitor care provided to patients by specific physicians, which allows management to identify staff members who might require more training on following recommended treatment guidelines.
Being able to track these fairly simple metrics through BI software tools has made Western Maryland a much more data-driven organization, Lutz said.
Data integration remains hot field
In this year's survey, 18.5% of respondents said they plan to implement a data integration project, putting it third on the list of analytics-focused software initiatives.
It's not hard to see why it's such a high priority for enterprises, with the list of big data platforms and management systems proliferating and, at some businesses, growing pressure for data teams to show a return on the technology they've invested in. These factors make data integration a clear necessity for many businesses.
This will be one of the primary new software initiatives for Scott Porad, chief technology officer at Rover.com, an online platform for matching dog owners with individuals offering pet care services. Porad said the company doesn't plan to add any major new pieces of software this year, but he and his team will be tying together what they already have.
He said the company has anywhere from 6 to 12 data sources that he'd like to add into the broader data warehouse, which would expose that data for analysis. The company's email server is one example.
Data visualization key to BI implementation
2016 was the first year the priorities survey asked users about their plans to implement data visualization tools, and such plans immediately landed near the top of the list of analytics-related software priorities, with 16.1% of respondents saying they plan to implement visualization technology this year.
To be sure, there's already been a fair amount of adoption of these tools, but with their ability to serve as both a front end for big data platforms and a self-service data querying tool to give less experienced business users access to a BI implementation, many organizations are looking to expand their adoption.
That's the case at computer manufacturer Lenovo, which implemented a text analytics and data visualization tool in June 2015. Daniel Bieber, the company's global analytics architect, said he's seen some success rolling out visualizations in customer service and sales departments. Now he's looking for ways to help more lines of business adopt the tool.
"I've seen early adopters get in and they're giving me good feedback about what they're getting out of the tool," Bieber said. "As it grows in adoption and the more visibility it gets, we can develop more actionable insights."
Next Steps
Open source BI software tools are not always the best option
Everything you need to know to choose the right BI software
Get top executives on board with your BI plans