Sergey Nivens - Fotolia
Data analytics tool for data scientists goes beyond BI visualization
A new breed of data analytics tool for data scientists aims to deliver far more than BI software, including predictive analytics and exploratory analytics.
Most large companies rely on business intelligence software to visualize data and dig into metrics like conversion...
Continue Reading This Article
Enjoy this article as well as all of our content, including E-Guides, news, tips and more.
rates over time. Those BI tools differ from a newer breed of data analytics tool in a critical area: magic formulas.
While magic formulas sound like a positive differentiator for business users who want an easy-to-use analytics tool, data scientists lean away from those types of automated black box tools, because automated formulas mean less control, less accountability and less flexibility. Data scientists typically use BI tools along with a mishmash of other platforms for things like advanced analytics, data exploration, data modeling and SQL editing.
Patrick Steigler, director of data science at Flexport, a logistics and supply chain company based in San Francisco, uses a data analysis tool from Periscope Data because it combines a number of functions that would otherwise require multiple tools. Before Periscope, Steigler used a mix of homegrown applications; MySQL Workbench for database queries, modeling, design and visualization; and Oracle Migration Workbench to move data. He also needed a dashboarding and reporting platform. All that movement between tools meant more time added to his workflow.
"I'd have a SQL editor to write a query to connect to the database, and I'd look at the data. Take that query, run it in R, [and ] run the plot of the distribution of the data to see if there were any outliers. That would take five minutes," he said. "Using Periscope, it takes about 15 seconds, which doesn't seem like a lot, but when you are doing this all day, it adds up."
Time savings is one of the main selling points Periscope Data's co-founder and CEO Harry Glaser makes for using a data analytics tool.
"Data analysts' whole day is running query after query against databases," he said. "It takes a long time to run the SQL queries and interpret the result, put it into Excel, submit the report ... all of this workflow takes up time [data scientists] could be spending doing new analysis."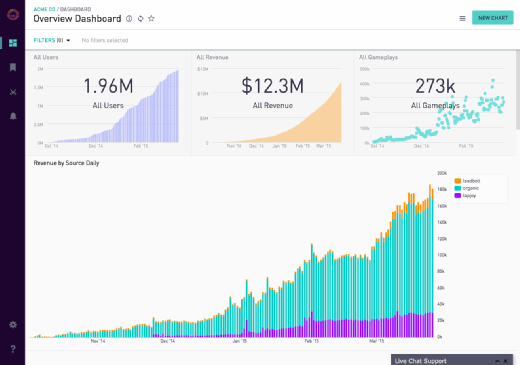 BI vs. data analytics tools
Tech companies all try to differentiate in some way, either to stand out from the pack or to avoid having the appearance of competing directly with market leaders. Periscope's CEO asserted that his company's software truly is different from traditional BI tools in that it provides broader data access specifically for data science teams.
"Periscope is not a BI tool -- most of our customers have BI tools," Glaser said. "BI tools like PowerBI target the CMO [chief marketing officer], giving them dashboards, and that's how the CMO sees things like conversion rates, metrics over time, day over day, week over week.
"But, if I want to do an analysis of all the ships leaving Oakland, [Calif.,] and there is a strike in Shenzhen, [China,] I need to know where we should route the ships and how much production would we lose," he said. "We think about how we can make the data analyst's life easier, rather than the CMO's."
Specifically, traditional BI tools focus on the visualization and communication areas of the data lifecycle, whereas a data analytics tool covers more of the data lifecycle, which includes data ingestion, storage and data management; data manipulation; data visualization; and data communication. Since the majority of BI tools focus only on the latter two portions of the data lifecycle, users may need other tools, such as SQL Workbenches and CRON jobs to fill the gap, Glaser said.
But leading BI and data visualization vendors like Tableau and Qlik say their products support these types of tasks, as well. In particular, Tableau has pushed the last couple of years to add deeper analytics support to its software in an effort to break away from the perceived limitations of traditional BI. Still, most of those companies' customers use the software for traditional reporting.
By giving analysts access to all levels of data, Periscope users can perform ad hoc deep dives and broad data explorations on sources ranging from data marts to raw inputs, Glaser explained. Data analytics tools also require skills the average business user doesn't have; you need to know SQL, and, as mentioned earlier, there are no magic formulas to rely on.
"Analysts don't want the automation, because if something isn't right, the data team is at fault," Glaser said. "You are the one making the assumptions when you feed the data into Periscope."
Periscope's tool, which is cloud-based and runs on Amazon Redshift, plugs directly into all of a user's databases and allows him to write SQL and run, save, and share analyses over billions of data rows in seconds, according to the company. Having one data analytics tool that serves as a SQL editor and a visualization platform affords other benefits, as well -- top among them being trust in the data, according to Flexport's Steigler.
Periscope Data has a number of household name companies on its customer list, from Adobe and guitar-maker Fender to Red Cross, which Glaser said uses Periscope's tool for disaster relief mapping and analysis.
Similarly, Flexport uses Periscope's tool in its business, which supports movement of cargo across international lines, past import and export authorities, and trucking and shipping authorities. Flexport's technology ensures all the parties involved with the cargo are kept up to date in real time.
Periscope Data's roadmap
While data analysis tools offer more fidelity than traditional BI tools, users want even more -- data exploration capabilities, in particular.
Periscope knows there's more to be done and plans to add features in the short term. The company started with project-based analysis, but many other things data teams do could be added to Periscope's software, including data exploration, organizing data and data engineering.
"We will add those and other capabilities over time," Glaser said. "We are moving beyond data analysis products, including predictive analytics, exploratory analytics and collaboration among teams ... Adding really good predictive analytics is a six- to nine-month project."
Periscope recently launched Slack integration, and users can expect more integrations over the next two to three years, he said.
Periscope data pricing
Periscope doesn't provide pricing on its website the way many cloud-based analytics software vendors do, and it did not provide specific prices when asked, saying the company uses a pricing strategy that fits a customer's unique requirements. Scaling prices based on value metrics such as rows or database sizes makes sense only alongside features and functionality that help customers get more out of their deployment and data, Glaser said in an email.
"This runs a bit counter to the per-seat pricing standard that most SaaS [software-as-a-service] companies use, and we feel that charging per user limits the customer's desired outcome, which is generally to become a more data-driven organization. Per-seat pricing can be a blocker for that type of initiative," he said.
However, Glaser stated on the Quora community forum in March 2016 that pricing starts at $1,000 per month and scales up with the amount of data plugged into Periscope. Pricing may have increased since then.
Senior news writer Ed Burns contributed to this report.