Fotolia
Tableau data visualization tool gets enterprise upgrade
Tableau is adding low-level capabilities to raise its software's standing above that of a data visualization tool for business units and to gain more acceptance enterprise-wide.
LAS VEGAS -- As part of its push for enterprise prominence, Tableau Software has enhanced its functionality at...
Continue Reading This Article
Enjoy this article as well as all of our content, including E-Guides, news, tips and more.
a low level and added features aimed at taking its namesake technology beyond its status as a line-of-business data visualization tool.
At the Tableau Conference 2017 this week the company unveiled several new additions to its popular data visualization tool. An in-memory data processing engine called Hyper, which was initially described at last year's conference, is now available to the public for the first time in a beta version of Tableau 10.5. The 10.5 release also adds support for running Tableau Server on Linux, an addition to its existing support for Windows.
In addition, the company plans to add a data preparation tool code-named Project Maestro to the Tableau data visualization software, starting with a public beta release this quarter. The new tool automates much of the data prep process by enabling drag-and-drop database joins and detecting similar field names in data sets when combining ones from different sources, Tableau said. It also suggests data matches.
Finally, Tableau added a new Extensions API to its data visualization tool as a developer preview, with plans to roll it out fully in the future. The API will enable Tableau dashboards to tie into other applications and in some cases control those applications. For example, Tableau product manager Ben Lower talked about how home goods retailer Wayfair tied a supply tracking dashboard into its ordering database and enabled dashboard users to manipulate supply orders directly from the dashboard.
The focus on low-level capabilities in the Tableau data visualization software is no accident. "In the past when we only focused on one side of the house and talked about end-user capabilities, nobody heard the other part about enterprise readiness," said Francois Ajenstat, chief product officer at Seattle-based Tableau.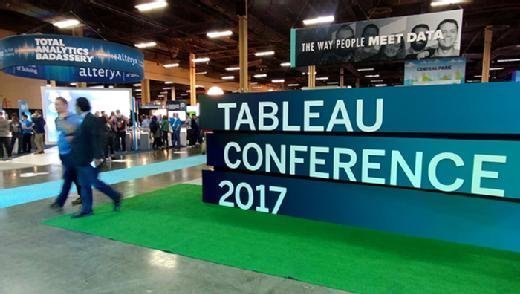 End-user reactions point to positives
Hyper is still new to most users, so few have hands-on experience using it in production-level projects. But many were excited about upgrading to 10.5 to gain access to it.
Brian Pringle, a systems analyst at healthcare provider Mayo Clinic in Rochester, Minn., said he experimented with the new desktop version of Tableau that includes Hyper. A data extract that feeds a supplier scorecard and normally takes about four minutes to load ran faster in his trials.
"I played with Hyper, and it seems like the refresh takes significantly less time," Pringle said, although he declined to quantify the speedup he saw.
[Project Maestro] is going to be a massive help. Right now, it's a fairly manual task.

Peter Gilksdirector of product insights, Spotify
In a presentation, Peter Gilks, director of product insights at music streaming company Spotify, said Project Maestro could improve his team's data preparation process. A part of its work involves visually exploring data in Tableau to find potential correlations for doing further analysis, identifying outliers and assessing data quality. This sets the stage for deeper analysis to learn more about how users interact with the Spotify platform, said Gilks, who works at the company's U.S. headquarters in New York.
But before his team can get to the visual data exploration stage, it has to prepare the data, which can be a lengthy process. Often the analysts are using log data, which Gilks described as messy and requiring some work to get to a point where it can be explored.
"[Project Maestro] is going to be a massive help," he said. "Right now, it's a fairly manual task."
Room to improve on scalability
Ventana Research analyst David Menninger said the focus on enterprise functionality makes sense, given Tableau's already strong capabilities in visualization. When it comes to creating dashboards and visualizations, users are generally happy, Menninger said. It's on the enterprise functionality side, which includes scaling to big data and supporting company-wide productionalized reports, where some see room for improvement.
"There may be things that [Tableau] could do in visualization, but there isn't a lot of work to do," he said. "But they haven't created the enterprise analytics platform."
Menninger said he sees Hyper as a step forward, even if it doesn't fundamentally change what Tableau does. He added that it will essentially make existing Tableau reports and dashboards run faster; it won't enable new functionality.
The Project Maestro data preparation tool could be more significant in the long run, according to Menninger. He said it will enable non-engineers and analysts -- people who typically often don't take part in data preparation -- to get involved in that stage of analysis, potentially expanding the user base for the Tableau data visualization tool.
The Tableau executive team "has demonstrated an understanding of what they have to do to continue the growth trajectory that they're on," he said.