News
Stay informed about the latest enterprise technology news and product updates.
Use data analytics to make better business decisions
Listen to a Q&A with Accenture's Jeanne Harris and learn how to put data analytics to work in your organization.
According to Accenture consultant Jeanne Harris, a full 40% of organizations still rely on their guts, not data analytics, to make important business decisions. Why is that?

Download this free guide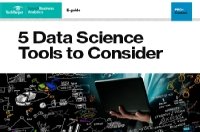 Free Guide: 5 Data Science Tools to Consider
With the right data science tools, you can gain powerful insight out of the ever-growing pools of corporate data. Learn why data science experts are using Python, R, Jupyter Notebook, Tableau, and Keras.
For one thing, many companies have simply been relying on gut instinct to make decisions for so long that giving up the habit is easier said than done. And even those that want to make the transition to data analytics often don't know where to start, according to Harris, who recently co-authored the book Analytics at Work: Smarter Decisions, Better Results.
But it can be done, Harris says. SearchBusinessAnalytics.com recently sat down with Harris to discuss some of the key benefits of data analytics, how to identify areas in which to get started with analytics, and why she says, "The unexamined decision isn't worth making."
In this 15-minute podcast, appropriate for both business and IT professionals, listeners will:
Learn why Harris thinks "the unexamined decision isn't worth making" (1:36).
Find out how data analytics can make a concrete impact on the bottom line (2:25).
Understand why it is proving so difficult for some organizations to implement data analytics (4:00).
Learn how to identify areas where data analytics can be most beneficial for companies (5:30).
Discover how to use both qualitative and quantitative management techniques around data analytics (7:30).
Find out how important – or unimportant – the data analytics tools and software are to a successful data analytics project (9:35).
Learn how to avoid some of the most common pitfalls around implementing and using data analytics (10:55).
About the speaker: Jeanne Harris is executive research fellow and a senior executive at the Accenture Institute for High Performance in Chicago. Harris leads the Institute's global research agenda in the areas of information, technology, analytics and talent. In 2009, she received Consulting Magazine's Women Leaders in Consulting award for Lifetime Achievement. Harris is the co-author of Competing on Analytics: The New Science of Winning, which explains how high-performance businesses are building competitive strategies around data-driven insights that are generating impressive business results. During more than 30 years at Accenture, Harris has consulted to a wide variety of organizations in many different industries worldwide and has led Accenture's business intelligence, analytics, performance management, knowledge management and data warehousing consulting practices.
More on data analytics:
Dig Deeper on Predictive analytics