Manage
Learn to apply best practices and optimize your operations.
Executive dashboards and data visualization trends and future outlook
Discover new opportunities in executive dashboards and data visualization and learn about executive dashboards and data visualization trends from expert contributor Mark Whitehorn.

Discover new opportunities in executive dashboards and data visualization and learn about executive dashboards and data visualization trends from expert contributor Mark Whitehorn.
---
Don't miss the other installments in this dashboard guide


How to get started with dashboards


10 key elements for effective dashboard designs


Executive dashboards and data visualization trends and future outlook


Working with dashboard editors for streamlining and increased user adoption


Real-life examples of effective dashboard design


How to create effective dashboards and scorecards

---
Dashboards have already proven hugely effective in helping some executives to understand how their business is performing. However, dashboards are still in their infancy and inevitably have borrowed heavily from the past. Most dashboards use presentation devices that were developed for paper -- possibly even parchment. The pie chart, for example, was first used in 1801. No one would suggest we abandon the pie or bar chart, but there is a golden opportunity to use the huge computing power at our disposal to make complex information easier to understand. So where do we go from here?
Trend #1: More analytical dimensions for executive dashboards
One obvious area for improvement in executive dashboards is in the number of dimensions (in the analytical sense) that can be represented on a two-dimensional surface (in the physical sense) such as a computer screen. In a typical bar chart, we see a numerical measure (say, profit) sliced by the members of a dimension (for example, the month members of the time dimension).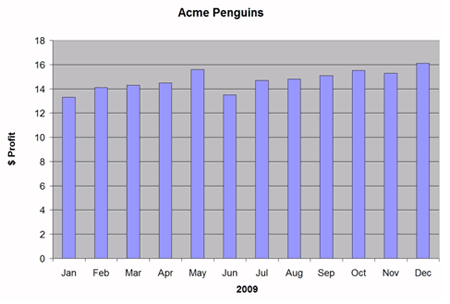 Even on paper, we were free to add extra analytical dimensions using color and shape, but computing power allows us to use movement to represent another dimension (often time). The best proponent of this I have seen is Hans Rosling, who demonstrates a unique way of presenting data in this video.
You can try out his software and data at GapMinder.org. and you can create something very similar in your dashboard using the Google gadget called Motion Chart.
Andrew Smith, director at Escherman, a digital PR and marketing firm based in Surrey, U.K., is a big proponent of using analytics in dashboards.
Smith referred to a book called Competing on Analytics, in which authors Thomas Davenport and Jeanne Harris claim that those companies investing unreservedly in building competitive strategies based around data driven insights will significantly outperform those companies that don't.
"Every aspect of business can be improved through the better use of analytics -- none more so than marketing," Smith said. "The issue now is the ability to analyze and interpret the huge volumes of data being generated. Dashboards and visual data analysis will increasingly have a greater role to play in marketing generally and may even become the key competitive marketing differentiator."
Trend #2: The demise of 3D for enterprise dashboards?
It is very tempting to extend this idea and to try to represent three of the dimensions as the X, Y and Z axes on a two-dimensional surface in dashboards. Indeed, even the somewhat pedestrian Excel allows us to do this.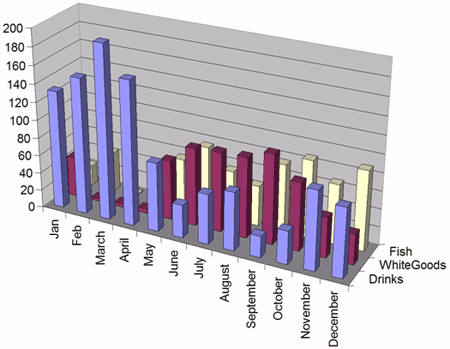 Jock Mackinlay (Tableau's director of visual analysis) believes this type of representation is problematic for two reasons. The first is simply occlusion (the data at the front has a tendency to obscure the data at the back), and the second is providing humans with controls that allow them to easily manipulate three-dimensional space. Where the data is truly three-dimensional (human body scans, oil fields, etc.), 3D displays are worth using, but for more abstract business data, the pain outweighs the gain, Mackinlay believes. So, despite what many people expect, 3D displays are unlikely to be a huge source of innovation in the future for executive dashboards.
Trend #3: More interaction for enterprise dashboards
Another major differentiator between paper and computer is that the latter can provide a high level of rapid interaction with the data. This area seems primed to offer the greatest source of innovation in the future.
According to Mark Lorion, vice president of marketing for TIBCO Software's Spotfire division, the future of business intelligence (BI) lies in data visualization and the ability of business users to take advantage of visualization methods to interact with data.
Lorion feels that the integration of data visualization to allow regular business users to explore and ask questions of large amounts of changing and diverse data represents the future of BI. He sees this as a major departure from traditional BI, which provided a quick dashboard of business metrics but required heavy involvement from IT and other analysts to access the data and compile reports that often failed to meet the needs of the business user.
Dashboard tip: Provide lots of interactivity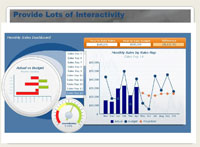 Click to enlarge
Image reprinted with permission from BITadvisors, Inc.
Many traditional dashboards are relatively passive. And since there is clearly a limit to the information that a single screen can display, there has to be an upper limit on the quantity of information they can reveal. So they might show the overall state of the enterprise and maybe some departmental level information, but that's it.
As Mackinlay points out, good dashboards can use relatively prosaic views of the data, but they must allow the user to interact with the data iteratively and very rapidly.
In other words, dashboards should simply be a starting point from which users can dig deeper into the data, and the display of the information should be so fast that the user is never aware of a delay. The trick here is twofold: The database engine behind the dashboard has to be lightning fast, providing the data as soon as it is requested, and the user interface has to be highly intuitive.
Trend #4: Focus on executive dashboard design and usability
To get to better usability, we need to get better at design. Indeed, however hard it may be for some technical people to admit, the main problems we face in turning data into information are not technical. We know how to handle data as dimensions and measures; we can produce very fast databases. What we also need is an interface that is so easy to use that the user is essentially unaware of it. There is no magic bullet here: We are still learning how to make interfaces to complex data easy to use, so this is an area where we should see significant advances in the future. The good news is that people are working on the problem and coming up with innovative ideas.
Further reading on dashboard design and usability
Visualizing Data by William S. Cleveland
Information Dashboard Design by Stephen Few
Readings in Information Visualization: Using Vision to Think by Jock Mackinlay, et al.
The Visual Display of Quantitative Information by Edward R. Tufte
Trend #5: The importance of collaborative visualization in dashboards
And one final trend in dashboards: If we accept that it is a huge advantage to allow users to interact with the data (and it is), it follows that when they find something interesting, they will inevitably need to share it with others. And they won't simply want to share a static view of the data, they will need to share the fully interactive view. This leads us to another area that Mackinlay believes is going to become crucial -- "collaborative visualization." Indeed, he argues that some analytical processes cannot be achieved by a single individual because they require the combined expertise of several specialists.
Trend #6: Blue sky?
Will we be using graphs and dials in 10 years' time? Undoubtedly -- but perhaps we will have become a little more imaginative in presenting the highest-level, overall picture of the data. After all, humans have to be trained to understand graphs but do not require training to be excellent at both face recognition and reading moods in faces. So, in 10 years' time, the highest-level dashboard might be a face – a happy expression indicating that all was well, a quizzical expression suggesting that it would be worth drilling down, and so on. It could bring a whole new meaning to the expression "putting a brave face on the figures."
Summary
The future for dashboards specifically, and data visualization in general, is unquestionably bright -- for a very simple reason. Enterprises large and small generate data. On a daily basis, business decisions have to be based on that data, but the raw data is simply overwhelming. So data visualization has essentially become indispensable.
---
About the author

Dr. Mark Whitehorn specializes in the areas of data analysis, data modeling, data warehousing and business intelligence (BI). Mark works with national and international companies, designing databases and BI systems. In addition to his consultancy practice, he is a well-recognized commentator on the computer world and has written nine books on database and BI technology. The first one, Inside Relational Databases has been selling well since it was published in 1997 and is now in its third edition and has been translated into three languages, other than English. The most recent book is about MDX (a language for manipulating multi-dimensional data structures) and was co-written with the original architect of the language -- Mosha Pasumansky. Mark is also a mentor with Solid Quality Mentors.
On the academic side, Mark is a research associate at Cambridge University. There he is involved in an international research project analyzing data that was available to Darwin before he wrote The Origin of Species. In 2005 this group published a paper in Nature which essentially rewrote our understanding of how Darwin came to develop the theory of evolution. (Nature, 2005, 4th. August. p643 "What Henslow taught Darwin." Kohn, Murell, Parker, Whitehorn.) He is also a Senior Lecturer at the University of Dundee.
---
Don't miss the other installments in this dashboard guide


How to get started with dashboards


10 key elements for effective dashboard designs


Executive dashboards and data visualization trends and future outlook


Working with dashboard editors for streamlining and increased user adoption


Real-life examples of effective dashboard design


How to create effective dashboards and scorecards
---
Dig Deeper on Business intelligence dashboards and performance scorecards