Making the business case for a BI consolidation project
Find tips for getting enterprise buy-in and building a business case for BI consolidation in this chapter of our e-book on managing a business intelligence (BI) consolidation project.

In this chapter of our guide on business intelligence (BI), find tips for getting enterprise buy-in and building a business case for BI consolidation from expert Rick Sherman.
---
Don't miss the other installments in this BI platform consolidation guide

* BI consolidation proves as much a political as technological process
* How to decide whether it is time for BI consolidation
* Tips for successfully consolidating business intelligence systems
* Implementing your BI consolidation program
* Making the business case for a BI consolidation project

---
Building a business case for a BI consolidation program is the key step to obtaining business sponsorship, commitment and involvement. The three key business goals used to sell a BI consolidation program are:
Lowering TCO (total cost of ownership).
Enabling businesspeople to analyze information rather than gathering and reconciling data.
Improving consistency of information and analytics.
Each of the above business goals has associated costs that need to be estimated in preparing a cost/benefit analysis. It would be great if you could just obtain a set of formulas to calculate the business ROI (return on investment), but it is just not that simple. You will be able to quantify some benefits, albeit with some investigation, while others you will need to qualify. In order to obtain a truly valid cost/benefit and ROI calculation, IT needs to work very closely with business decision-makers.
Determining the TCO: The hard sell
The TCO is the easiest of the business goals to figure out -- i.e., the before-and-after BI application costs. The starting point is the BI application and data shadow system survey that you completed when assessing the state of BI in your enterprise. You need to determine the costs of operating, maintaining and enhancing these systems. These costs include software, infrastructure and labor, including both IT and businesspeople. The software costs include licensing, maintenance and upgrades. Infrastructure comprises all the costs of the hardware, storage, network and other physical assets associated with running each application. The largest expense is going to be the labor. You need to add in all the IT labor costs for the BI applications and the business labor costs linked with the data shadow systems. Conservative estimates suggest that a quarter of a businessperson's time is spent gathering, loading and maintaining data shadow systems under his care. You should estimate the costs of these systems over a three-year period when performing ROI calculations.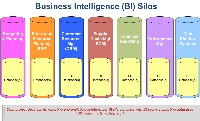 BI silos. (Click to enlarge image)
After you know the costs for the existing BI applications, you need to determine the investment, migration and operating costs. Keeping the costs separate enables you to perform what-if analysis with different scenarios in each cost category. The investment costs will be highly dependent on the BI tool selected, while migration and operating costs will vary based on the BI silos and data shadow systems that you plan to migrate.
Work through different investment scenarios. For example, use open source software, on-demand software, data warehouse appliances, BI tools from BI pure-plays, or BI suites from the high-tech titans. Also, examine varying the scope and time frame for migrating legacy BI application to calculate the impact on costs and ROI. Performing these what-if scenarios will allow you to present several alternatives to the business.
Business productivity and information consistency: The softer side
The last two business goals are very significant but are not quite as easy to quantify fully.
Studies have estimated that a quarter of a business analyst's time is spent in gathering data, importing data into spreadsheets to produce reports, and then reconciling those reports with other analysts' reports. These labor costs can be estimated along with how much BI will reduce those costs.
But these labor costs are only part of the equation. The flip side is that once these conflicting reports are published, businesspeople debate the numbers or guess what those numbers are if there are no reports available. In addition, the third benefit is improvement in the consistency of the information that is available for reporting and analysis.
Businesspeople will agree that this raises the risk of bad decisions being made or an opportunity being lost because correct data was not available. Although these are "soft benefits," they may be crucial for getting business commitment. Discuss these issues with key decision makers and ask them how they would value these benefits from their perspective. I have seen many IT people very surprised at the positive and thoughtful responses.
Getting the business side on board
If you take the approach that BI consolidation is a technology project that simply reduces costs, businesspeople are not likely to sign up to disrupt their lives through BI migrations or to sponsor the investment necessary. But if your BI consolidation program is sold as enabling more consistent information and freeing up businesspeople from being data gatherers while saving long-term costs, your business community will be strong advocates and participants.
---
About the Author
Rick Sherman has more than 20 years of business intelligence and data warehousing experience, having worked on dozens of implementations as a director/practice leader at PricewaterhouseCoopers and while managing his own firm. He is the founder of Athena IT Solutions, a Boston-based consulting firm providing DW and BI consulting, training and vendor services. Rick blogs on performance management, DW and BI at The Data Doghouse. You can reach him at [email protected] or (617) 835-0546.
In addition to teaching at industry conferences, Sherman offers on-site DW & BI training, which can be customized and teaches public courses in the Boston area. He also teaches data warehousing at Northeastern University's graduate school of engineering.
---
Don't miss the other installments in this BI platform consolidation guide
* BI consolidation proves as much a political as technological process
* How to decide whether it is time for BI consolidation
* Tips for successfully consolidating business intelligence systems
* Implementing your BI consolidation program
* Making the business case for a BI consolidation project

---